Message from Your Center Manager
Side Note: (Dec 9, 2019)
Many times I find things on my desk at KC ranging from outdated bulletins to sweet gifts. Today I noticed a little sticky note that I put on my computer when it was left some indeterminate time ago. "Pain is inevitable!" I don't remember the context, yet it is apropos to any scenario living on this planet. I tossed it in the recycling bin today. A need to tidy up or not wanting to see it? I'm not sure. It's now back in it's spot and will be a beacon of hope not an offering of misery. I did however add a codicil, "Carry On."
Sending love,
Jill
ps. "It's not the load that weighs you down, it's the way you carry it." ~ C.S. Lewis
Side Note: (Dec 2, 2019)
"Autumn whispered to the wind; I fall: but always rise again."
~ Angie Weiland-Crosby
Side Note: (Nov 25, 2019)
It's that time of the year for leaf blower meditations. When my leaves are blown to the curb, I never think I might be disturbing someone's quiet reading, nap time for a baby or contributing to general noise pollution. I remember when I first started practicing Buddhism and Geshe-la taught how our car is in the way for others or we are causing the line to be longer in the grocery store for those behind us. It may not be overt self importance, yet self cherishing permeates like oil on cloth. So when I sit down to meditate and the leaf blower starts right on cue, I'll smile knowing my neighbor is simply ticking an item off the to do list and I have the opportunity to get closer to enlightenment.
Sending love,
Jill
ps. "What do you get when you cross a bunny with a leaf blower?" A hare dryer ~ the interwebs
Side Note: (Nov 18, 2019)
Hope many of you enjoyed some or all of the various teachings from Venerable George these last two weeks. Yesterday we finished the last session of a heady weekend on Mahamudra. One of my favorite lines came at the very end of the text Venerable George was reading from, "Mahamudra - How to Discover Our True Nature." "Having seen that the eight worldly concerns are like the drama of lunatics...live according to the conduct of rishis … and take this path as the essence of their practice." Drama of lunatics; a perfect way to describe how we go from day to day, "being happy when given gifts and unhappy when not given them; wanting to be happy and not wanting to be unhappy; wanting praise and not wanting criticism; wanting a good reputation and not wanting a bad reputation." (from Lama Zopa Rinpoche) I will strive to be less of a lunatic this week, holding these teachings in my heart. Want to strive with me?
Sending love,
Jill
ps. "And if the band you're in starts playing different tunes, I'll see you on the dark side of the moon." ~ Pink Floyd
Side Note: (Nov 11, 2019)
Walking through the woods yesterday on a crisp fall afternoon enjoying the solitude and post teaching mind I paused at the familiar educational signs along the way. I've read them before, yet on this day their particular topics heralded a message that came in order: "A Fresh Start, Life Abundant and It All Flows Together." While the signs were talking about tree growth, plant life and stream flow, it felt like a Lifetime movie sub plot of two friends walking at a fast clip, each with a cup of coffee and ear warmers. "Yes, it's like my life has a fresh start!" You get the idea. However corny the show in my mind was, it's still a good reminder. Every day or in fact every moment we get a fresh start to choose our course of action. Every day we can appreciate how abundant the teachings are for us. Every day we can choose to see that we are all flowing together in this stream.
Sending love,
Jill
ps. "...merrily, merrily, merrily, life is but a dream." ~ "Row, Row, Row Your Boat" by Eliphalet Oram Lyte
Side Note: (Nov 4, 2019)
Summer or Fall? Hot or cold? Breezy or still? No matter which way we prefer, the changes in the season and the time zones still happen. I used to have such severe depression that autumn, a harbinger of winter, terrified me. True. Now I love sitting on the deck reaching out and hoping to catch a falling leaf. Best done with glasses so as not to get a pine needle in the eye. Things change, we change, everything in fact changes. If it didn't we couldn't become enlightened. Glad I remembered the plot.
Sending love,
Jill
ps. "And soon I'll hear old winter's song..." ~ Autumn Leaves - Nat King Cole
Side Note: (Oct 28, 2019)
From time to time folks call in looking for information on a class we offer or an answer to a question. More and more I'm happy that people call us because a medical practitioner has suggested that meditation might be helpful with their anxiety. I listen to their story, share that I too have anxiety, and offer various ways to learn to meditate at our Center. Recently a gentleman called for meditation advice, told me he is a Christian and also had Buddha head next to his bed that was an air freshener. I had such a smile on my face as he explained he looked at it before he went to sleep and felt everything was going to be alright. Maybe it is the aromatic scent, maybe a past connection, regardless, we discussed how he could incorporate meditation into his life with no contradiction to his faith. May the vanilla scented Buddha bless his mind every night and bring him peace.
Sending love,
Jill
ps. "Behave so the aroma of your actions may enhance the general sweetness of the atmosphere." ~ Henry David Thoreau
Side Note: (Oct 21, 2019)
Outside now: Sky is blue, sun is shining, clouds are fluffy, temperature a mild 73 degrees. What's not to love? The fair is on. Our Center is located ½ block from a samsaric epicenter and next door to those who are trying their best to 'park you' when just driving to and from our buddhist oasis. For some the NC State Fair is merely a break from a fall work day, for others the occasion of the year. No problem. Let them have their funnel cake and eat it too. May the wheel of ferris samsara turn and radiate joy for miles around.
Sending love,
Jill
ps. "Moons and Junes and Ferris wheels The dizzy dancing way you feel as every fairy tale comes real I've looked at love that way." ~ Joni Mitchell
Side Note: (Oct 14, 2019)
Since Geshe-la talked about impermanence and clearing our conscious yesterday, it lingers. Here's a nice reminder mash-up that is simple and to the point.
"Autumn shows us how beautiful it is to let things go." ~ unknown
Side Note: (Oct 7, 2019)
Regular dental cleaning today, "Any issues?" she asked. "Just a little discomfort in one tooth," my reply. Trying to keep thoughts at bay that something might be wrong and if so what would be the cost. Before I knew it the bite was adjusted and zero discomfort appeared like magic. Which is what the dentist said, "Like magic!" Well that was easy. Root canal or magic? We don't always have a choice, yet some folks might think a root canal was magic if they were in extreme pain and had that option. Varying degrees of options exist in every moment. Varying degrees of magic exist in each moment as well.
Sending love,
Jill
ps. "But all the magic I have known, I've had to make myself." ~ Shel Silverstein
Side Note: (Sept 30, 2019)
In thinking what to write about this week, I glanced at my bookshelf and noticed a pivotal book for me. Back in 2008, my first foray into Buddhism was to attend teachings from His Holiness in PA with no prior knowledge of anything about Buddhism. My mind was blown after attending 6 days of teachings, two times a day, three hours each. The cherry on top was meeting some amazing people from Raleigh.
At home, I felt the pull to begin practicing and studying, yet had no idea how to start. The library offered the solution: "A Simple Path," by His Holiness. Looking at the pictures and captions today, I remember a state of readiness. "So now you have read these teachings on the Four Noble Truths, if you consider you are a Buddhist then please put them into practice." Ok, let's look up this place called, "Kadampa Center," and see what they have to offer. The rest, as they say, is history.
Sending love,
Jill
ps. "The connections we make in the course of a life - maybe that's what heaven is." ~ Mr. Rogers
Side Note: (Sept 23, 2019)
Sitting on the deck eating oatmeal with chia seeds watching the birds stand on the ledge eating seeds. It's all the same. Maybe next time I'll be on the ledge and they'll be reading Wisdom Journal articles, wishing me happiness while eating oatmeal...with chia seeds.
Sending love,
Jill
ps. "Don't judge each day by the harvest you reap, but by the seeds that you plant." ~ Robert Louis Stevenson
Side Note: (Sept 16, 2019)
Difficult news may come to us like a fire hose or a whisper about the world, our state, our city, our friends or our family. One option is to redirect the flow or pretend we didn't hear, yet only for so long. Another option is to be open to multiple views on whatever comes down the pike and ride the wave. Note to self: "Learn to surf."
Sending love,
Jill
ps. "There may be trouble ahead, but while there's music and moonlight...Let's face the music and dance." ~ Irving Berlin
Side Note: (Sept 9, 2019)
Ever watch the show on Netflix called "The Good Place"? We get to watch a group of 4 muddle through the karmic implications of life after death. My favorite quote from there has helped quite a lot recently. "I guess all I have to do is embrace the pandemonium, find happiness in the unique insanity of being here….now." I will try to say, "Hello and welcome" to this insanity and muddle through with a smile. Want to join me?
Sending love,
Jill
ps. "Well, I've narrowed it down to two possibilities: yes and no." ~ Chidi, from 'The Good Place.'"
Side Note: (Sept 2, 2019)
"A hundred times every day I remind myself that my inner and outer life depend on the labours of other men, living and dead, and that I must exert myself in order to give in the same measure as I have received and am still receiving."
~ Albert Einstein
Side Note: (Aug 26, 2019)
Amidst the continual mental ruminations that rumble through our minds, small respites of joy that bring us smack dab into the moment are thoroughly welcome. This morning while reading on the deck, a tiny hummingbird flew past my head with startling closeness. It then hovered in front of my face sharing the ruby red jewel hidden on its neck. A lovely moment indeed. Could be a message, could be the red squares in my, "It's turning fall flannel shirt." The respite was brief yet created a welcome shift. Good enough for now.
Sending love,
Jill
ps. "There have been days when I sought respite from my life, only to find myself calling every hour to check on it." ~ Robert Breault
Side Note: (Aug 19, 2019)
We could easily say, "These times are difficult," yet if we pulled out a historical timeline wouldn't many people say that at any given point? If we accept reincarnation, then we've lived through countless eons of these times. Living each day waiting for times to be not difficult or complicated hasn't solved many problems yet, so guess that's why you're reading a side note on a Buddhist newsletter. You are ready to quit waiting and get a different mindset. Good thing we have a road map that shows the way off the dang map for good!
Sending love,
Jill
ps. "When she was a child, my love carried a road map in her hand, the way other girls carried handkerchiefs." ~ Roman Payne
Side Note: (Aug 12, 2019)
Summer is winding down and we see the promise of fall by the myriad of FB posts for scholastic firsts. Photos of the first day of kindergarten, entering middle school, starting high school, or embarking into college all herald new beginnings for families and their children. Exciting and nerve wracking times abound. Sending good wishes that all transitions go smoothly, children rise to their 'first' challenges ahead and families enjoy their new found freedom.
Sending love,
Jill
ps. "You are off to great places. Today is your day,! Your mountain is waiting, so get on your way." ~ Dr. Suess
Side Note: (Aug 5, 2019)
While sitting in the car at the bank drive through, I noticed a cardinal flying from one car mirror to another; back and forth, over and over. What's up? Checking it's coiffure or for spinach in its beak? I was curious and a google search explained it's about defending territory at nesting times of year. When they see their own reflection, they assume they are seeing a competitor and attack the image.
We too are easily fooled by what we think we see or hear and then make assumptions even to the point of defending ourselves when not necessary, yet it's all a fool's errand. Until our mind is more clear we'll be pecking at reflections.
Sending love,
Jill
ps. "We look into mirrors but we only see the effects of our times on us - not our effects on others." ~ Pearl Baily
Side Note: (July 29, 2019)
A little something to think on.
"There is an optical illusion about every person we meet." ~ Ralph Waldo Emerson
Side Note: (July 22, 2019)
I was going to complain about the heat in NC, when it occurred to me to pull a temperature map of the US. Ok, so we're all in this together. Can't stand the heat? Let's get out of the kitchen and then samsara!
Sending love,
Jill
ps. "It's so hot outside that I went to buy vegetables, and by the time I got home they turned into soup already." ~ the interwebs
Side Note: (July 15, 2019)
Get a chance to hear Robbie Watkins lead yesterday on Sunday morning? He always brings refined knowledge to us in an orderly yet carefree way. I miss our Geshe's when they are gone, yet when our lay people lead, there is an intimacy in the gompa that is special. Robbie led us into a discussion on Ethics. Even if we've memorized the 'lists' Buddhism so kindly offers, the takeaway nugget from Sunday for me was the answer to, "What is the last benefit to practicing Ethics?" We had figured out all the other ones, then someone mentioned how it makes us happy. Bingo. It makes us happy. So simple and so profound. Doing the right thing, plugging along and getting happy. That's my plan for today. Join me?
Sending love,
Jill
ps. "Do the right thing. It will gratify some people and astonish the rest." ~ Mark Twain
Side Note: (July 8, 2019)
Back from the yearly FMPT North American Region meeting in Brooklyn where Directors, SPCs and Board representatives spent 2 days sharing many facets of our Centers. Every year, it surprises me that all our programs, classes and ancillary activities amaze the other Centers. Upon this reflection, let's all take a moment to rejoice that we are a happy, thriving Center and how fortunate we truly are. Many Center's don't have a resident teacher and we have 2! Many Center's don't have a strong attendance for Sunday morning teachings and we have over 100 folks that come. Many Center's have very few people who attend classes like DB and we had 80 in January!
May our collective karma continue to thrive not only in our familiar offerings, yet in ways we haven't even thought of yet!
Sending love,
Jill
ps. "The best part of life is not just surviving, but thriving with passion and compassion and humor and style and generosity and kindness." ~ Maya Angelou
Side Note: (June 23, 2019)
Hope everyone got a chance to catch a night or two or 7 of Venerable Robina's teachings. It was a whirl wind of Dharma all the way from, "Zip your lips and keep your hands to yourself to if something is a dependent arising it has to be empty of inherent existence and if it's empty of inherent existence it has to be a dependent arising." There was something for everyone. All the recordings are on our website, so enjoy!!
Sending love,
Jill
Side Note: (June 17, 2019)
We're all getting ready for Venerable Robina to start teaching tonight! People travel all over the world to see her as well as our own precious Geshes. Taking a moment to think about the karma we all created to have so many qualified teachers help us with our minds brings such joy. As Venerable Khando mentioned yesterday, we are creating causes every second of the day, so how fortunate we collectively created the causes to live where the Dharma is so accessible and in our own backyard.
Sending love,
Jill
ps. "Whenever you go on a trip to visit foreign lands or distant places, remember they are all someone's home and backyard." ~ Vera Nazarian
Side Note: (June 10, 2019)
Away from the Center for funeral and visit with friends from long, long ago. So long ago it will be a journey back in time. Time to reflect on the person old friends think they are seeing checked againt the person standing in front of them. We'll see how that plays out.
Sending love,
Jill
ps. "Memory...is the diary that we all carry about with us." ~ Oscar Wilde
Side Note: (June 3, 2019)
Wafting scents of magnolia and gardenia during night walks and fresh cut grass in the morning. No matter how busy, happy, stressed, relaxed or sad we might be, we can breathe and that breath can be filled with pleasurable aromas of this time and this season. Enjoy the wafting.
Sending love,
Jill
ps. "I love things that are indescribable, like the taste an avocado or the smell of a gardenia." ~ Barbra Streisand
Side Note: (May 27, 2019)
"As we express our gratitude, we must never forget that the highest appreciation is not to utter words, but to live by them."
~ John F. Kennedy
Side Note: (May 20, 2019)
Recently a friend at the Center told me he loved the consistency of all our classes and programs so he knew "where to tap in." That has a nice ring to it. "Where to Tap IN!" It wasn't raised as a question, yet as a statement of knowing where one wants to be and why to be there. Where do you tap in at the Center? Where do you tap in in your life? Where we spend our time is spiritual currency for our mind. The options are endless yet do they all lead to the outcome desired? Guess we'd have to commit to the outcome to know. We can't all wait for other beings to come back and wake us up, one of us has to get there first. Thanks for all your efforts and don't forget me on your return flight back.
Sending love,
Jill
ps. "Once you have tasted flight, you will forever walk the earth with your eyes turned skyward. For there, you have been, and there you will always long to return." ~ Leonardo da Vinci
Side Note: (May 13, 2019)
Here's a project for this week:
"Do not commit any unwholesome action.
Commit only wholesome actions.
Subdue your mind.
This is the teaching of the Buddha."
At least it's concise:-)
Sending love,
Jill
Side Note: (May 6, 2019)
Yesterday in the gompa we bid farewell to Geshe-la with lots of love and laughter, until late July. He began teaching on the 8 Verses of Thought Transformation and promised to finish upon his return. The interwebs are full of challenges these days from "Cinnamon" to "10,000 steps a day." 10,000, really? Maybe we can take these verses on as our challenge! They were composed as teachings for monks and do increase in aspirational practice as they go along to say the least. For us folks practicing in North Carolina in 2019 even number one is quite an ask.
"Determined to obtain the greatest possible benefit from all sentient beings, who are more precious than a wish-fulfilling jewel, I shall hold them most dear at all times."
Holding all of them at all times? How about just the US? Ok, that's a lot. How about North Carolina? Whew. How about Raleigh? Hmmm. How about those I encounter today? Ok. I'll start there. Baby steps. Reader, I'm holding you dear:-)
Sending love,
Jill
ps. "Dear future, I'm ready." ~ all over the interwebs
Side Note: (April 29, 2019)
I've been listening to some Venerable Rene teachings and meditations. Here is a brief takeaway. Above the clouds there are shapes and imagination of a magical world. In the cloud there is fog made up of particles. Dive into your thoughts and see their essencelessness. Nothing to disturb or excite. Peace and bliss. So I've heard, so I will try.
Sending love,
Jill
ps. "I've looked at clouds from both sides now, from up and down and still somehow, It's cloud's illusions I recall..." ~ Joni Mitchell
Side Note: (April 22, 2019)
Enjoying our several sunny days and bright blue skies after much rain? Spring is upon us in it's glory.
Sending love,
Jill
ps. "After the rain, the sun will reappear. There is life. After the pain, the joy will still be here." ~ Walt Disney
Side Note: (April 15, 2019)
Blooming bursts of color and pollen. It's a package deal. Precious human rebirth and a mind of swirling thoughts. It's a package deal as well.
Sending love,
Jill
ps. "And the day came when the risk to remain tight in a bud was more painful than the risk it took to blossom." ~ Anais Nin
Side Note: (April 8, 2019)
We had a lively discussion in the gompa this Sunday while Geshe-la explained how to work with our minds in meditation. "Step 1. Don't think about the thing you are thinking about. Step 2, Don't think about that you are not thinking about the thing you are thinking about. [Therefore,] If you don't think about either one, then will see ultimate truth." While we all twisted our minds around this idea, one thing that resonates for me, is when Geshe-la frequently adds, "If we realize how things truly exist, we would not take things so seriously." I'm going to practice that part first, wish me luck. If you see me and I'm laughing out of context, you'll know what I'm up to. Wink wink. Nudge, nudge. Know what I mean?
Sending love,
Jill
ps. "The most wasted of all days is one without laughter. " ~ ee cummings
Side Note: (April 1, 2019)
"The best way to find yourself is to lose yourself in the service of others." ~ Mahatma Gandhi
Side Note: (March 25, 2019)
Yesterday in the gompa Geshe-la told an antidote about being at a doctor's appointment and we all laughed because of his facial expression when he said "The doctor asked, what's your pain on a scale from 1-10?" He had no idea how to answer that question with no former reference to this type of communication tool in a medical context. This gave me an idea...what if we ask ourselves throughout the day, "On a scale from 1-10 how good is my mind?" It might give our ruminations, troubling thoughts and/or icky mind a pause. Right now? I'm about a 6.5. This is information I can do something about! Even thinking about Geshe-la warms my heart, so 7.5. Now I'm thinking about all of you thinking about your mind scale and it's making me smile, so that's a 8.5. What if I think about all beings working on their mind scale and wishing them a 10? Now we're getting somewhere.
Sending love,
Jill
ps. "On a scale of 1 to stepping on a lego, how much pain are you in?" ~ the interwebs
Side Note: (March 18, 2019)
The news gives us difficult reports of happenings in the world as well as a report that there are so many butterflies in Southern CA ,"It was like being in a snow globe with Painted Lady butterflies," the interviewee said. Pause for imagining. We live in our own snow globe; bumping into difficulties as we lift our heads for wispy wings to touch our face. What's in your globe?
Sending love,
Jill
ps. "I'm a shake the snow globe type person." ~ Diane Sanfilippo
Side Note: (March 11, 2019)
Thank you for the warm welcome back Sunday morning! It's lovely to be sitting in our quiet Center ready to take on the day, the week and the rest of 2019. While it is lovely getting away and looking for ways to spend the day, I thought, "It's not about being entertained, it's about being beneficial." That we can do in every waking moment thinking of others, showing kindness to strangers and/or simply smiling at folks. While I saw many beautiful things and enjoyed the break, it's the people and conversations that made memories. My thanks go out to them for the giving of themselves and warming my days.
Sending love,
Jill
ps. "The fragrance always stays in the hand that gives the rose." ~ Hada Béjar
Side Note: (March 4, 2019)
Still away from the Center, sending lots of good wishes to everyone and missing Kadampa Center smiles and hugs.
See y'all soon!
Sending love,
Jill
ps. "Laughter is an instant vacation." ~ Milton Berle
Side Note: (Feb 25, 2019)
Away from the Center for a little while: regrouping, refreshing and reinventing. Hold down the fort and know I'll miss you all!
Sending love,
Jill
ps. "I love places that make you realize how tiny you and your problems are." ~ Anonymous
Side Note: (Feb 18, 2019)
Yesterday while Geshe-la was away; we had a lively discussion in the gompa. This mirrored nicely with the new book I started reading by Lama Zopa Rinpoche that morning, "The Four Noble Truths, A Guide to Everyday Life." In working with our mind, here's a quote from the Intro, "Just as milk contains the potential for butter, mind contains the potential for happiness." Understanding why all our complications are going to hang around awhile until we realize where true happiness comes from helps us start right now to want to learn more while being more open, kind and loving. So the next time you spread a little butter on your toast, see your mind's potential to be happy!
Sending love,
Jill
ps. "Life is too short for fake butter, fake cheese or fake people." ~ the interwebs
Side Note: (Feb 11, 2019)
Are you a pluviophile or a heliophile? Take your pick; it's around the corner. "If you don't like the weather in NC, just wait five minutes." We are springing into spring and back out into winter just like our monkey mind seeking the preverbal banana of the day. Happiness gliding in on sunshine and gloom delivered with the cold for some and the other way around for others. It's all a weather kaleidoscope. Reach for a sweater, an umbrella or a coat with a smile and we'll all go with the flow. Weather is happening no matter what!
Sending love,
Jill
ps. "Climate is what we expect, weather is what we get." ~ Mark Twain
Side Note: (Feb 4, 2019)
When playing a familiar piece on the piano it's fascinating to feel your fingers move to keys without awareness. Years of repetition make for simplicity of movement that is comforting. When reciting a memorized prayer, one can almost feel the lips move with this same awareness. It takes less energy to do something that has become part of our wiring. This reminded me of Shantideva's verse, "There is nothing whatsoever that is not made easier through acquaintance." An online search for the exact words led me to the source where the verse was already noted with importance by myself years ago in the chapter on Patience. So when I don't have patience, what else has become far to simple and easy with familiarity? This may take some rewiring.
Sending love,
Jill
ps. "Neurons that fire together, wire together." Donald Hebb

Side Note: (Jan 28, 2019)
May you have just enough of life's offerings today to help your mind become more clear and not so much that the waters are muddied.
Sending love,
Jill
ps. "Muddy water is best cleared by leaving it alone." ~ Alan Watts
Side Note: (Jan 21, 2019)
"I say to you today, my friends, though, even though we face the difficulties of today and tomorrow, I still have a dream. It is a dream deeply rooted in the American dream. I have a dream that one day this nation will rise up, live out the true meaning of its creed: 'We hold these truths to be self-evident, that all men are created equal.'"
~ 1963, Dr. Martin Luther King, Jr.
Side Note: (Jan 14, 2019)
Saying goodbye to three friends during practices at the Center this week makes for a rough start to 2019. May each one of them find perfect rebirths, meet qualified teachers right from the start and have mountains of peace.
And may all those that are still on this side, enjoy a peaceful year and know they are loved.
Sending love,
Jill
ps. "By and by we shall say goodbye." ~ Ernest Agyemang Yeboah
Side Note: (Jan 7, 2019)
Welcome to 2019! Already a week in and away we go! Some traditions live on even when we change outwardly like Buddhists with Christmas trees and then taking it down after Epiphany. Removing ornaments, lights and tinsel was particularly gnarly and humorous this year as this was the driest tree ever in the history of trees (that's well over half a century of trees.) Why? I heard that when the economy tanked in 2008 hardly any Christmas trees were planted. So we've been riding on the laurels of 10 years of trees that were planted prior to 2008. This year, the trees were older, less plentiful and expensive because of; you guessed it, causes and conditions. So as I was removing ornaments from childhood I was thinking, "Am I creating the causes for happiness for the next 10 years, next lifetime, next year, next moment?" It's on me. We hold the ability to make each moment of 2019 a cause for happiness in the future. Pause for reflection.
Goodbye pine needles, goodbye 2018. Hello love to you all.
Sending love,
Jill
ps. "My New Year's resolution is to stop feeling guilty about not keeping last year's resolution."~ the interweb
Side Note: (Dec 31, 2018)
Last side note of 2018…Whether you choose to close out the year with tonight's Dorje Khadro practice, stay peaceful at home or hang with friends and family may you end this year with a positive mind and a compassionate heart. A simple wish is for each of us to put into practice what we've learned this entire year from our precious teacher, Geshe-la. May any form of Dharma that has come your way become part of your path for the New Year and benefit all beings everywhere. Choose the cup of kindness.
Sending love,
Jill
ps. "We'll take a cup o'kindness yet and days of auld lang syne…" ~ Robert Burns
Side Note: (Dec 17, 2018)
There's a lesson around every bend, turn, avenue, twisting winding road. This week it is ants. Three huge anthills appeared inside near our bookstore. This required a lot of loving effort to suggest they go back underground and find another site. Location, location, location. Well they picked a new location, my desk. A hidden gem of a caramel (waiting the right needy moment) created a desire driven path. I tried to teach them about attachment yet it was me who learned about an attachment to whose desk is this really? To them it's a highway and they intend to drive it all day long. Sorry for the detour my friends and thank your for the patience reminder. I'd better eat that cookie before they invite their cousins, aunts and uncles!
Sending love,
Jill
ps. "…and the little one stops to tie his shoe and they all go marching down to the ground to get out of the rain, BOOM! BOOM! BOOM!" ~ children's song
Side Note: (Dec 3, 2018)
On our guest computer at the Center there is one key that isn't working. Just one key. Nothing happens no matter how many times you try. Wanna guess which one? Yep, the "I." Anybody else find that amusing? We certainly did. Another fun day working for you, the Center and all beings.
Sending love,
Jill
ps. "Sometimes when things are falling apart, they may actually be falling into place." ~ the interwebs
Side Note: (Nov 26, 2018)
Not knowing, patience and practice. This moment. That's all there is and everything is AOK regardless cause that's all there is regardless.
Wish everyone good luck with that.
Sending love,
Jill
ps. "You can either ride the wave or suck the surf." ~ Joe Caruso
Side Note: (Nov 19, 2018)
Denise Flora led last Sunday and talked about gratitude to prepare us for Thanksgiving. Reflecting on my own gratitude, words don't fit for how fortunate it feels to have a loving community to rely on. "Our happiness goes up and down like an elevator," Denise said in a poem to the children. It's good to know all of you are present when the elevator goes below the basement.

ps. sending love,
Jill
Side Note: (Nov 12, 2018)
Rainy days and Mondays don't have to get us down if we know the secret to happiness.
Good thing we know what that secret is.
I cherish you all today. Working on equally.
Side Note: (Nov 5, 2018)
We hear quite often in Buddhism about learning to see our thoughts as mere thoughts. They have power only when we follow them and build a reality based on a rising thought, so why is it so difficult to move a thought in the direction we'd like it to go? It seems like moving clouds into any shape we choose. Not there yet. Yet we do have power. Think of a luscious bright yellow lemon, slice it with a sharp knife and imagine placing a wedge to your lips? Did your mouth water? If we can place a thought and get a reaction, then we can altar our thoughts. Let's try again. Think of watching a horror film and then see the set, cameras, masks coming off and actors laughing, then what happens? Do you still feel scared or does seeing reality change your view?
However hard it may be, we need to change our view. See things for the way they truly exist. That's why are teachers laugh all the time. Everything is like an illusion, which can bring a smile all day long amidst the worst. It's not easy and it is. May we all get there sooner rather than later. Then we could morph all the clouds into hearts.
Sending love,
Jill
ps. "'I've looked at life from both sides now
From win and lose and still somehow
It's life's illusions I recall
I really don't know life at all."~ Joni Mitchell
Side Note: (Oct 22, 2018)
Can't get a green leaf until the brown one falls off.
May you enjoy the shift.
Sending love,
Jill
ps. "Autumn is a second spring when every leaf is a flower." ~ Albert Camus
Side Note: (Oct 15, 2018)
Guilty: Found a cool Facebook link and read the whole thing. There's a fun marketing strategy that leaves quirky messages in hidden places. Now I'm turning over cartons and looking at the bottom of my shoes to see if they would leave a message in the sand. Finding hidden treasures is a joy most of us would secretly admit. Wouldn't it be fun if we left hidden messages for others to find around the office, the home, in lunchboxes or in a book for a future person to find? Let's show the world we care and leave a little of our heart somewhere to bring a smile. It may just spread with no end.
Sending love,
Jill
ps. "A contented mind is a hidden treasure and trouble findeth it not." ~ Akhenaton
Side Note: (Oct 8, 2018)
We wave goodbye to June, July and August and then realize September is gone as well! Looking for an apropos quote for the end of summer led to this… Charlie Brown to Snoopy, "Sigh…there goes another summer, Snoopy!" While thinking of a quippy phrase about seasons changing, led to finding a great Buddhist scene a couple of cartoons away. Charlie Brown said, "Some day we will all die, Snoopy!" Snoopy replied, "True, but on all the other days, we will not." In the midst of our keen awareness of time marching quickly on, let's access a little Monty Python and chant, "I feel happy, I feel happy, I am not dead yet. I can dance and I can sing, I am not dead yet, I can do the highland fling." Our teachers ask us to be aware of our pending death so that we may live more fully and use our time wisely. May you move beautifully into autumn.
Sending love,
Jill
ps. "Thousands of geniuses live and die undiscovered – either by themselves or by others." ~ Mark Twain
Side Note: (Oct 1, 2018)
Waves thrust upon us around the world via natural disasters and political difficulties, can make our day-to-day efforts seem overwhelming. Whether you feel this onslaught physically and/or emotionally it takes a toll. While we seek truth and meaning may we simply find kindness. While we seek kindness may we be the ones to offer it. While we offer it may it multiply exponentially.
Sending love,
Jill
ps. "Truths kindle light for truths." ~ Lucretius
Side Note: (Sept 24, 2018)
Recently a Youtube video was shown to me and made its intended impact. A young woman's personal garbage for four years fit into a mason jar. She spread the contents out and described the item groupings. If you are now imagining how you could ever manage this you'll feel the pinch when you open the garbage can day after day, all day, to throw away accumulated trash. The young woman has proven it's possible if we try hard enough. Hats off to her. What could we try hard enough to do and accomplish goals we thought never possible?
Also, we should we be so lucky that the bane of our existence are plastic concert bands.
Sending love,
Jill
ps. "And because these daft and dewy-eyed dopes,
Keep building up impossible hopes,
Impossible things are happening every day!" ~ Cinderella's fairy godmother
Side Note: (Sept 17, 2018)
"Hurricane season brings a humbling reminder that, despite our technologies, most of nature remains unpredictable." ~ Diane Ackerman
All of us at our Center thank every one of you around the world for your prayers and practices during hurricane Florence. May all who were affected by the storm be safe and know our hearts and prayers are with you.
Sending love,
Jill
ps. "Be the breeze, not the hurricane." ~ the interwebs
Side Note: (Sept 10, 2018)
Pending news of a hurricane on it's way toward us may create it's own mini mental hurricane within us. Bread: check. Milk: don't really need milk. Mental state: unchecked. Maybe this week while creating a plan of stowing away the umbrella, the chairs and the potential projectile rock collection, I'll add to my list to check my mental state. If we were good scouts we would always be prepared. So how prepared are we? Guess it's time to actually try "Thinking something good" all day instead of when Geshe-la reminds us.
May we have just enough of a storm, to dance in the rain.
Sending love,
Jill
ps. "There are some things you can only learn in a storm." ~ Joel Osteen
Side Note: (Sep 3, 2018)
Found a quote that fit the holiday and the Dharma...
"All labor that uplifts humanity has dignity and importance and should be undertaken with painstaking excellence."
~ Martin Luther King, Jr.
Side Note: (Aug 27, 2018)
I heard a helpful story last week. If you have ever been the recipient of someone's hostility, here's another way to deal.
One day while the Buddha was resting with a group of villagers, a man arose and began shouting at him angrily. The Buddha simply sat there, remained calm and asked, "Young sir, if you purchased a lovely gift for someone, but that person did not accept the gift, to whom does the gift then belong?"
The odd question took the young man by surprise. "I guess the gift would still be mine because I was the one who bought it."
"Exactly so," replied the Buddha. "You have been angry with me, but if I do not accept your anger in return it will fall back upon you - the same as the gift returning to its owner."
It's worth a try. Baby steps.
Sending love,
Jill
ps. "You don't have to be great to start, but you have to start to be great." ~ Zig Ziglar
Side Note: (Aug 20, 2018)
The light is green, no one is moving and just up head you see the sweet waddle of geese crossing the road. Been there? While it's nice to see everyone waiting patiently for the family to get to the other side (all chicken jokes aside,) have you ever wondered why they don't just fly to get to the vacation spot of choice? I did. Siri informed me that it's not that easy. There's a lot of energy expended in flying. And in fact why don't humans run to get where we want instead of walking? Good point. If we had to rely on running to our car, running thru the store and running to get the mail we'd all look a bit loony and a bit tired. Turns out pacing ourselves and knowing our limits are exactly what those geese are doing. They'd have to eat a ton more to be able to fly more and then we all know what else they would be doing a lot more of. Go ahead, we'll all enjoy your waddling. It's a nice time to say a few mantras.
Sending love,
Jill
ps. "It's impossible to explain creativity. It's like asking a bird, 'How do you fly?' You just do." ~ Eric Jerome Dickey
Side Note: (Aug 6, 2018)
We were gathered into our comfortable places for 1.5 hours of meditation and chatting during First Saturday Meditation a couple days ago and when asked, "What's your name and why did you come today?" Peter's response was, "I like that this class is like a laboratory. We try meditations out, talk about it and see what works for us."
What a great reference for our own minds. Try it out. Does calming the mind make you feel better? Does giving someone a hand make you happier? Does reading the Dharma give you something positive to think about? Does reframing what you really wanted to say make you smile? Give it a whirl and prove to yourself under the scrutiny of experimentation what will make you happy. It could change everything. It's so much easier than waiting for everyone on the entire planet to do his or her work first.
Sending love,
Jill
ps. "Think like a proton and stay positive." ~ the interwebs
Side Note: (July 30, 2018)
A little dharma gem from this morning offered an unfamiliar generosity teaching, so thought to share. "…different ways to offer different elements to different beings. To friends, give with non-attachment. To enemies, give with love. To strangers, give with closeness. To those with good qualities, give with aspiration. To those with faults, give with compassion. To those who are inferior, give without arrogance. To those who are equal, give without competition. To those who are superior, give without jealousy. To those who are rich and happy, give without resentment. And to those who are miserable and destitute, give with deep compassion."
Lovely. We may not have the wisdom to know where everyone is coming from, yet may we all develop the wisdom to know exactly what every being needs.
Sending love,
Jill
ps. "No one has ever become poor by giving." ~ Anne Frank
Side Note: (July 24, 2018)
There's an art project I have in mind that needs a certain size of wood and I've been pondering where I would find it. This morning while sitting on the deck reading about bodhichitta and tong-len, I was easily distracted by remembering that I promised a photo of my shed to someone who might want it. When I opened the doors to take the photo I cracked up laughing. The shed had a huge stack of wood from the former owner with pieces exactly like I needed. It was indeed in my own backyard. So too are peace, happiness and joy. We just have to open the door! Now back to tong-len…
Sending love,
Jill
ps. "Eureka! I have found it!" ~ Archimedes
Side Note: (July 9, 2018)
Frequently I look up quotes to bring a little humor to This Week. Let's just say all the quotes that had to do with returning to work after a vacation wouldn't fit here. Lol. I am actually happy to be back in the saddle working for the benefit of our teachers close and far and all of you, my dear KC family.
Sending love,
Jill
Side Note: (June 25, 2018)
Time for the FPMT regional meeting in Colorado! I'll bring all your good wishes and love to our FPMT family with me.
"Wake up every morning and feel excited for what you'll be doing, who you'll be meeting, and who you're becoming."
~ The interwebs
Side Note: (June 18, 2018)
Make a deal with you this week? I'll practice this if you will:
"Be wise. Treat yourself, your mind, sympathetically, with loving kindness. If you are gentle with yourself, you will become gentle with others."
~ Lama Thubten Yeshe
Sending love, Jill
Side Note: (June 11, 2018)
Link through to FB articles much? Found a neat one on a friend's page and had to click through looking for a little proof this sentence is true.: "The benefits of optimism are real." Do you vent, ruminate or dwell on the disappointment or look for that shiny thing called a silver lining? Resilience seems to be the key. Apparently it works. The article plainly said, "It turns out that resilient people are good at transforming negative feelings into positive ones." Seems the author has been reading up on some Buddha Dharma. We hear about transforming our problems so much at the Center it's somehow confirming to read about it in mainstream social media. Or maybe that's just my particular optimistic view:-) Either way, may your next problem, issue, disappointment, or tough time be just what you need to strengthen your resilience. We've got lifetimes, so we're gonna need it!
Sending love,
Jill
ps. "Which story do you prefer?" ~ Life of Pi
Side Note: (June 4, 2018)
For a light version of a side note, here's a book series recommendation that many of us at the Center are enjoying: The Rules of Ten (Tenzing Norbu Dharma Detective) by Gay Hendricks.
A Tibetan detective, former young monk, finds his identity in Los Angeles and faces his interconnected self-discovery while solving crime. It's light reading yet infused with Dharma in our tradition. We've all read books that include Buddhism in it's subject yet it's either another tradition we aren't familiar with or a mix and match of various traditions. Not this series! Ten, the detective's nickname, uses the same language and transforming problems teachings we use. It's a delightful read and available in our library!
Word on the street, it's even going to be made into a TV series. How beautiful that the teachings will be made more and more mainstream. I like to visualize Lama Yeshe and Lama Zopa Rinpoche eating a big bowl of popcorn watching Ten use the teachings to solve crime J
Sending love,
Jill
ps. "Don't ignore intuitive tickles lest they reappear as sledgehammers."
That's the first rule of Ten~ Detective Tenzing Norbu
Side Note: (May 28, 2018)
May your Memorial Day be peaceful and relaxing.
"You can discover more about a person in an
hour of play than in a year of conversation." ~ Plato
Side Note: (May 21, 2018)
Some folks at the Center are moving and gave us items to be offered in our "Donated items, make an offering" bin. Included is a recording of the 2003 Shiwa Tour, "Chants for Peace and Healing." A little work, a little chanting for this quiet Monday. Prior to attending the Center, this would have sounded like a spooky sound track for an Indiana Jones movie and now it's part of our world, our tradition and our sound history. The fact that it is not only comforting, when parts become a sing along provides delight. East meets west in the landscape of reverberating ancient chants moving the heart of this Kentucky gal. Move over Stephen Foster, my old Kentucky home is indeed far, far away.
Sending love,
Jill
ps. "Everything becomes a little different as soon as it is spoken out loud." ~ Herman Hesse
Side Note: (May 7, 2018)
Your Center Manager is on break this week.

Sending love to all!
ps. "Almost everything will work again if you
unplug it for a few minutes...
including you."
~ Anne Lamott
pss. Or a week:-)
Side Note: (April 30, 2018)
Tad bit behind this week getting out this side note when my phone rang, 1.888…probably a recorded call of little significance or a credit card offer of less significance I thought. Decided to answer and have a happy mind. It was the Chaco Shoe Company saying, "We received your shoes and that break can't be fixed. We'd like to send you a new pair." Cool! No call is insignificant if we choose to answer with a happy mind. If it had been the credit card company, the plan was to be polite to the robo caller. Remains to be seen. I do wonder if I missed Eric Hodge and a trip to the destination of my choice on the calls not answered!
Sending love,
Jill
ps. "Our lives are defined by opportunities, even the ones we miss." ~ F. Scott Fitzgerald.
Side Note: (April 23, 2018)
Found a moving story in a book today about the Salwen family and the tenacity of Hannah, their 14-year-old daughter. Waiting at a red light with her dad, Hannah saw a homeless man on the left and a Merdedes driver on the right. It occurred to her that if the owner of the Mercedes sold his car for a more modestly priced one, the man on the left could have a meal. What the Salwen family did is shocking and inspiring. Balance for our world could occur if we all had less of what we deem necessary. The book The Power of Half: One Family's Decision to Stop Taking and Start Giving Back, isn't about selling everything we own, more about what can we live without so we can give back to those in need.
Balance. May we all find ours so that others may benefit.
Sending love,
Jill
ps. "When you let go of trying to get more of what you don't really need, it frees up oceans of energy to make a difference with what you have…." ~ Lynne Twist
Side Note: (April 16, 2018)
"There is a wonderful mythical law of nature that the three things we crave most in life -
happiness, freedom and peace of mind are always attained by giving them to someone else."
~ Peyton Conway March
Side Note: (April 9, 2018)
Yesterday we celebrated Geshe Sangpo's achievement of 111,111 prostrations done at Bodhgaya, India. The feeling of admiration, respect and amazement felt in the gompa was palpable. Behind these sentiments was an awe-inspiring reverence for what we discovered Geshe Sangpo held in his heart while he was prostrating. Yes, he was thinking of all sentient beings, yet his thoughts were also on us, all of us, and our Center. Could we fathom this? We are blessed beyond measure.
Let this feeling and his joyful efforts give us the strength to persevere through difficulties and trials. We are loved and held in the heart by one amazing monk.
Sending love,
Jill
ps. "1 universe, 9 planets, 204 countries, 809 islands, 7 seas. And I had the privilege of meeting you." ~ the interwebs
Side Note: (April 2, 2018)
Several inspiring chats have taken place this week ranging from: A dear friend becoming dearer, a stranger now an acquaintance, a very close one moving to distant friend, new friends becoming closer, a stranger might become a KC friend. It's all a moving web of perceptions. Luckily no one has moved from friend to enemy camp.
When impatience rose, 'patient listening' was remembered.
When tedium rose, 'listening with interest' was remembered.
When uncertainty arose, 'unbiased listening' was remembered.
Grateful for the teachings that create an awareness of closeness that exists within the interdependence of us all.
Let's move everyone to the friend camp!
Sending love,
Jill
ps."There is nothing better than a friend, unless it is a friend with chocolate." ~ Linda Grayson
Side Note: (March 26, 2018)
"We can never obtain peace in the outer world until we make peace with ourselves."
~ His Holiness the Dalai Lama

A noble effort for the week.
Side Note: (March 19, 2018)
Our FB poster placed this quote as a header for a posting for mowers:
"Knowing trees, I understand the meaning of patience. Knowing grass, I can appreciate persistence." ~ Hal Borland
Sometimes we can't see the trees for the grass. Guess it's time to lie on the earth on our backs and open our eyes.
Sending love,
Jill
Side Note: (March 12, 2018)
"Everyone wants happiness. No one wants pain. But you can't have a rainbow, without a little rain." ~ The interwebs
Overly simple, yet seemed right for today.
Side Note: (March 5, 2018)
Today we grieve for a friend of our Center that has passed. Sitting next to my desk is a book of his and I reached for inspiration for this side note. One of the bookmarks said, "If you've ever had a Bad Day, read this…" OK. Yes, I have. Upon opening, "Dear Reader, If you've ever had your heart broken, your health impaired, your finances threatened, your career derailed, or your state of mind rattled…then you know, life can be tough." Heck yeah, I've been in each one of those clubs!
It went on to say, "Fortunately, Buddhism offers some real practical ways to deal with life's challenges…" We get to the plug for Lion's Roar and you get a free Pema Chodron book that will help with all those clubs listed above. "Students will learn to greet fear with a smile and deal with the rawness of grief, the groundlessness of sorrow, the protective shields that no longer protect."
Yes indeed it does. Thank you Geshe-la. Time to deal with rawness.
Sending quiet love,
Jill
ps."Nothing ever goes away until it has taught us what we need to know." ~ Pema Chodron
Side Note: (Feb 25, 2018)
This morning's appointment was an hour off, so good timing to grab a quick breakfast. Found a place and bellied up to the bar for an hour alone with a good book and good eats. After a few servers served me, I heard the slogan "Where every server is your server." How lovely! Six happy people attended to me and made my morning. We could have a slogan like that: "Where every person is your person." Certainly we can't take care of everyone, yet we can have a mindset where we look at everyone as important to us. Equanimity, drop by drop.
Sending love,
Jill
ps."We cannot tell the precise moment when friendship is formed. As in filling a vessel drop by drop, there is at last a drop which makes it run over, so in a series of kindnesses there is at last one which makes the heart run over." ~ Ray Bradbury
Side Note: (Feb 19, 2018)
Happy Losar to everyone! We are beginning 15 days of celebrating during which our actions are multiplied by millions and millions. I don't know about you, I only think of those actions of generosity, financial or helping others as multiplying and forget about the negative bits. All thoughts or words that aren't so kind are multiplied too. Yikes. Time to zip our lips and keep our hands to ourselves!
During this Tibetan holiday time, I wish for your mind to be clear, your heart to be happy and your pockets to be full. Not just with lint either.
Sending love,
Jill
ps."The last suit that you wear, you don't need any pockets." ~ Wayne Dyer
Side Note: (Feb 12, 2018)
"Which way do you roll? Do you go over or under?" When I lead Meditation 101, during around the third class we discuss this question. We have a lot of fun learning how each of us rolls the toilet paper. Next the "Let's work with our minds" challenge is introduced: "For the next week, roll it the opposite way." Some smile and nod in agreement, others look perplexed and there's always one who outright says, "No, I can't." (They are encouraged to pick something else challenging yet not so mentally disturbing.)
The rubber meets the road in class four when asked, "So how did it go?" Several are happily surprised that it wasn't so difficult, others say they lasted a few days and then there's always one or two who are shocked how hard it was to do something as simple as changing the way we roll toilet paper.
It's can be challenging to be comfortable when things aren't the way we'd like them to be. There are many dharma lessons to be gained from working with our minds everyday in everyway.
Ready to take the challenge? If it's too difficult, try squeezing the toothpaste in the opposite way you like.
Good luck and let me know how it goes!
Sending love,
Jill
ps."I've learned that life is like a roll of toilet paper. The closer it gets to the end, the faster it goes." ~ Andy Rooney
Side Note: (Feb 5, 2018)
February is here with its mix of cold and promise of warmth. Bouncing in our mind from pleasant to unpleasant depending on our seasonal preferences leads us to stay dissatisfied. A few days to wear our favorite sweaters then we're ready for the short sleeves again. We live in an area where the weather is never too extreme and it changes like our bouncing minds. If we wait long enough we can be satisfied…or we could simply be satisfied. Whether or not you like the weather you can weather it if your mind is ready for anything.
Sending love,
Jill
ps."You are the sky. Everything else…It's just weather." ~ Pema Chodron
Side Note: (Jan 22, 2018)
A walk in the woods yesterday at new found Hemlock Bluffs Park; with no coat yet snow still on the ground felt like I was in a 60's movie from the Alps with folks clad in shorts walking on green paths lined with white snow. Fresh crisp air, owls hooting in call and response, wild birds familiar from the mornings' white noise app, squirrels perched high resting in the setting sun. The words "leisure and opportunity" found in the Lamrim during the first weeks of practice rose to mind. Once thought of as odd linguistic choices now cause a smile. Time to contemplate interdependence, impermanence and PHR (not to be confused with PBR.) Thankful for the leisure to analyze the Dharma I've had the opportunity to learn from our precious teachers; a happy and fruitful walk indeed.
Sending love,
Jill
ps."The way a crow shook down on me the dust of snow from a hemlock tree has given my heart a change of mood and saved some part of a day I rued. " ~ Robert Frost
Side Note: (Jan 8, 2018)
We mark the time of a new year with great joy and effort and then the following week comes and it's business as usual. Same mind, same afflictions, same ol' samsara. Well the office and filing cabinet are reorganized, yet deep down it feels like something will be different every year. What might that be that would magically happen between 12:00 and 12:01 that would make things feel different? It's all on us, so unless we actually practice what our teachers ask us to, it won't be. Unless we actually read what our teachers ask us to, it won't be. Unless we actually change our minds to be more loving, it won't be. Where do we start when it all feels so overwhelming? Every moment. Each and every moment. Choose wisely.
Sending love,
Jill
ps."Today I will live in the moment, unless it's unpleasant in which case I will eat a cookie! " ~ Cookie Monster
Side Note: (Jan 2, 2018)
Happiest of New Year's to each and everyone of you!
May your days be merry and bright and when they aren't
may you remember which tool to throw...
Dharma tool that is:-)
Side Note: (Dec 25, 2017)
Hope everyone had a lovely, lovely Christmas!
Last week a sweet member came in to give me a gift of extraordinary measures. It was something that no longer fit and she thought I would like it. Boy howdie! A generous offer of a coat purchased in Italy that she never even wore. The kindness moved me, yet not as much as her departing comment: "Thank you for letting me give this to you." Now that's how to give a gift.
I hope you are still in your jammies surrounded with wrapping paper, loving family, friends, cozy pets and good food while finding the best way possible to give from our collective hearts.
Sending merry love,
Jill
ps."Love the giver more than the gift. " ~ Brigham Young
Side Note: (Dec 18, 2017)
It's the holiday season so maybe this is a strange time to talk about this, yet bear with me. We know in our Buddhist vernacular, it's not uncommon to talk about our own death, over and over in fact. We hear it often from our many visiting teachers, Geshe-la, Geshe Sangpo, Lama Zopa Rinpoche and His Holiness the Dali Lama. The idea is not to depress us, yet spur us on to be more kind, cherish others and practice well. So here's a tip to help! A friend from the Center just told me about a cool app that will remind you five times a day that you will die. It's called Wecroak and produced by our friends at FDCW, Foundation for Developing Compassion and Wisdom. I just downloaded it and every time they remind you, they send you a quote like…
"One must live as if it would be forever, and as if one might die each moment. Always both at once." ~ Mary Renault
It could be just the thing to keep our mind on what is important this holiday season. Happy Holidays.
Sending love,
Jill
ps."If you were going to die soon and had only one phone call to make, who would you call and what would you say? And why are you waiting?" ~ Stephen Levine
Side Note: (Nov 27, 2017)
This year we gave being grateful around the table at Thanksgiving a new twist. "What will you do this upcoming year that you will be grateful for next year?" Our responses made us project about ourselves in the future. The high school senior was shocked by the thought that next Thanksgiving will be a break from college and the nursing school student smiled when she realized she would be ready to graduate. Projecting into our future is a beneficial way to think about who we want to be and then how we hold the key to make that happen.
What will you do in the next 365 days that you will be glad you did?
Sending love,
Jill
ps."Piglet noticed that even though he had a very small heart, it could hold a rather large amount of Gratitude." ~ A.A. Milne
Side Note: (Nov 13, 2017)
When a particularly strong not-so-kind emotion arises towards someone, you've pulled every tool out of the tool belt, and nothing cools your heat, what do you do? Not being able to shake off these feelings is uncomfortable and leaves us unhappy in the end. I've been trying a new method that softens my heart and moves my mind to where I want it to go. Want to know? You'll need to be strong…Imagine you are giving the eulogy for the person you are angry at in front of all their family and your shared friends. Yes, at first you might say a terse comment that causes a giggle, yet as you move through your words, tenderness will arise and you will see how much you love and cherish this person. Eventually you see how much you would miss them and how interconnected we all are. Don't be afraid, we practice death meditation all the time; this is simply another way to understand we are all going to give or be the subject of a eulogy one day. Might as well practice now!
Sending love,
Jill
ps."He was funny, he was beautiful, he was the most perfect athlete you ever saw, and those were his own words." ~ from Billy Crystal's eulogy for Mohammad Ali
Side Note: (Nov 6, 2017)
Suffering – Happiness, Pleasure – Pain, Stress – Relaxation: Everyday our emotions Ping-Pong from one extreme of the volley to the other. If you have chosen to have news alerts sent to your phone, lately, the volley is game-on with the first opening of your smart phone when you arise and doesn't let up. This can be uncomfortable to say the least. I watch historical dramas often and it occurred to me that it hasn't been different at any point in history. Whether the news comes from a phone bling or gossip at the local tavern, we live in a constant state of alertness for the atrocities of samsara.
Geshe-la tells us, if we have a headache, it's because we have a head. We live in a world where things are going to go wrong…often. While we'll always be shocked by hurricanes, earthquakes, flooding, shootings, political confusion and sexual misconduct, instead of being overwhelmed, we must continue to do what we know: Get our own minds in order, practice loving kindness and cherish all beings. Again and again, over and over, never giving up. Ping-Pong version 2.0.
Sending love,
Jill
ps."There's no cool way to chase after a bouncing ping-pong ball." ~ interwebs
Side Note: (Oct 23, 2017)
The other day a friend from the Center remarked, "I bet you are happy to not live by the fair anymore." My response surprised me. "Actually I'm not." Last year, the twinge of autumn produced a 'side note' on the NC State Fair as thought transformation practice.
Wistfully, the route home from the Center now skirts the boundary of the fair so peripherally, that the folks waving flags to get your attention begging you to park ignore you if you don't make eye contact. No practice there.
The Saturday morning monster truck pull sounds were not heard from the deck, allowing the birds to sing clear as a bell. No practice there.
We could still hear the fireworks at 9:45 every night, yet the sound was so distant it was genuinely pleasant, given the windows nor our teeth didn't rattle. No practice there.
Guess we'll have to look elsewhere to find practice. It's just so sad…wait that's practice! Where does this sad exist?
Sending love,
Jill
ps."I won all the blue ribbons for canning at the State Fair." ~ Loretta Lynn
Side Note: (Oct 9, 2017)
The cassette tape, newly revered by my teen is a necessity for the drive to school. Digging through my collection, she selects an assortment for the car such as Queen, Pink Floyd, Eric Clapton, and Allman Brothers. It brings a smile when we belt out lyrics memorized by each of us decades apart. The other day, she plucked out "Jill's Feel Good" tape. "Ahhh, that's so sweet!" Yes, mixed tapes at their finest. After school drop off, the car was transformed into a trio of Judy Garland, Barbra Streisand and moi singing, "Forget your troubles, come on get happy…. The skies above are clear again…" As if on cue, the clouds literally parted and sunshine poured through. During bpB, before practicing Buddhism, this tape was created for the dark times of the soul. Now during the apB, after practicing Buddhism, while music and sunshine still lift the mood, I am thankful for the vast knowledge of what truly brings happiness. What a comfort we can actually transform our minds not just in the moment, but also in the very neuroplasticity of our brains. This indeed is hopeful and brings gratitude that we have a place to learn exactly how to do this.
Sending love,
Jill
ps."So long sad times, Go long bad times, We are rid of you at last,
Howdy gay times, Cloudy gray times, You are now a thing of the past." ~ Intro to "Get Happy" by Harold Arlen [listen here]
Side Note: (Oct 2, 2017)
Most all of us awoke to terrible news today. After what this world has been through with hurricanes and earthquakes, it's overwhelming news to hear of one more sad, sad event. We can't even begin to wonder what brings someone to such a state of mind, yet the words, "We have to establish what his motivation was first," stayed with me. We talk so often about our motivation in Buddhism, and this is an example to the extreme.
May your motivation for the day bring your mind some peace for the day.
Sending love,
Jill
ps."The true hero is one who conquers his own anger and hatred." ~ His Holiness the Dalai Lama
Side Note: (Sept 25, 2017)
Back in the saddle and ready to take on the end of 2017. It would be redundant to mention the shock that October is knocking on our door or we're winding down a year yet again. So let's talk of something more interesting.
Did you see the new t-shirt in the bookstore? They arrived right before the retreat and were whisked away in the nick of time. We collect pearls of Geshe-la's teachings and store them for future t-shirt campaigns. This one is: "Every thought matters, every action counts." We know our thoughts and actions matter; we're all wanna be good Buddhists, yet "every one?" It's rather powerful when you think about it. This is mostly what Rinpoche was teaching us at retreat. Turn your mind towards virtue. We need all the help and reminders we can get to move away from countless lives of smooth sailing seeking. We're here to offer you a pleasant reminder with the purchase of one mere t-shirt: Available at your local Buddhist bookstore today.
Sending love,
Jill
ps."Life is not a matter of holding good cards, but of playing a poor hand well." ~ Robert Louis Stevenson
Side Note: (Sept 18, 2017)
On KC home turf once again after the sounds of bells, chanting and the swish of robes. We weathered storms, late nights and early mornings to be in the presence of our inspirational teacher Lama Zopa Rinpoche. Every minute was worth it! Folks from around the world benefited from these amazing practices and teachings for the weekend, the week or even a month. When is the next LOP retreat? We'll have to wait to find out!
Side Note: (Sept 4, 2017)
During LOP, I'm back and forth between Kadampa Center and Black Mountain. Here's the schedule for open times at the Center to meditate and visit the library. The bookstore remains closed for the month. Enjoy the end of the Summer!
Sept 4-8
Tue-Fri 10:00-5:30 pm (Closed Labor Day)
Sept 11-15
Mon, Wed, Thur 1:00-5:30 pm
Closed Tue and Fri
Side Note: (August 28, 2017)
The month long retreat is in full swing and I will be sharing my time at LOP and at home back at the Center. Here's the schedule for open times at the Center for you to meditate and visit the library.
(The bookstore is closed for the month.)
Enjoy the end of the Summer!
August 28-Sept 1
Mon - Fri 10:00 - 5:30 pm
Sept 4-8
Tues - Fri 10:00 - 5:30 pm (Closed labor day)
Sept 11-15
Mon, Wed, Thur 1:00 - 5:30 pm
Closed Tues and Fri
Side Note: (Aug 21, 2017)
The month long retreat has started and I will be sharing my time at LOP and at home back at the Center. Here's the schedule for open times at the Center for you to meditate and visit the library. The bookstore is closed for the month. Enjoy then end of the Summer!
August 21-25
Mon, Wed, Thurs 1:00 -5:30 pm
August 28-Sept 1
Mon - Fri 10:00 - 5:30 pm
Sept 4-8
Tues - Fri 10:00 - 5:30 pm (Closed labor day)
Sept 11-15
Side Note: (Aug 7, 2017)
Many visitors pop in during the week to visit, shop, meditate, pray and circumambulate. Some just want to assuage their curiosity. We had one such visitor who brought his family in. He was the cutest little visitor seen yet. I bent down to say "and who are you?" He looked into my eyes, waited and while I thought he was just being shy, he tilted his little head and said, "I'm your friend." If you add three-year-old dialect your heart will melt too. He didn't even think of telling me his name or anything other than how he saw that we related and I am happy to have made it in his friend camp. I've heard His Holiness thinks of everyone he meets as his friend and this little chap already gets that. Precious.
Let's all try that this week… "Hello, I'm your friend, may your week be a happy one."
Sending love,
Jill
ps. "1 universe, 9 planets, 204 countries, 809 islands, 7 seas and I had the privilege of meeting you." ~ unknown
Side Note: (July 31, 2017)
Last week brought a mention of hoisting our sails, this week I came across a quote "A ship in the port is safe, but that is not what ships are built for." This was a nice reminder to push the limits, stretch your edges, and move into the unknown etc. you get the picture. Crossing the water metaphors work nicely with our Dharma practice since we are trying to go beyond and cross to the other shore. The port may be comfortable, yet our boat needs to get out and navigate the waters so when the time is right we can set sail!
Sending love,
Jill
ps. "Welcome the task that makes you go beyond yourself." ~ Frank Mcgee
Side Note: (July 24, 2017)
Reminded of a game from the 60's called 'Topple' led to a search that revealed how many balance games exist from our past: 'Don't Spill the Beans', 'Don't Break the Ice' and my favorite 'Careful,' the toppling tower game. No wonder there is so much anxiety in this decade; we were raised being so careful we don't lose our balance.
This Sunday, we were led in a wonderful discussion with a verse about determination and joyful effort from the text: "A Prayer for the Beginning, Middle, and End of Practice" written by Lama Tsongkhapa.
"With sail hoisted of the sincerest of minds,
Driven by winds of unflagging effort,
On this well-built ship of study, thought, and meditation,
May I bring living beings from samsara's ocean."
The balance act is prevalent in all our fully occupied lives.
The balance between effort and exhaustion
The balance between study and play
The balance between this life and eons of lives
On the way to finding our balance, we might just need to spill the beans and break the ice so we don't actually topple while being so careful to find it. Another balance game 'Jenga' that means, "to build," sounds like the path to healthy effort. May all your building and hoisting bring you exactly the kind of balance you need.
Sending love,
Jill
ps. "I can't control the wind but I can adjust the sails." ~ Ricky Skaggs
Side Note: (July 10, 2017)
Sharing our own birthday or anniversary with holidays can take the steam away from "our day." Yet not always…this gal is happy to report that she's overjoyed to share her second anniversary as your Center Manager with the birthday of His Holiness. It brings a sweetness and a reminder of the goal of this position. Harmony. Gratitude and a full heart speak for the love of working each and every day to make Kadampa Center more fulfilling, peaceful and helpful for each and every one of you.
This year will be busy and exciting; let's all go there together with open hearts to fulfill Rinpoche and His Holiness' wishes. A clink and a toast to year three!
Sending love,
Jill
ps. "A joy that's shared is a joy made double." ~ English Proverb.
Side Note: (July 3, 2017)
A trip to a fav thrift shop this weekend gave me a laugh. Few skirts for work: Check. Couple tops to match: Check. Another dress maybe? Ooh, this is a cute one, wait this was my dress! Why did I give it up, it's so stylish? Oh yea, didn't quite look the same as 10 years before.
Later that day a particularly clinging thought reminded me of the dress. Why do we think the same useless thought over and over? Why can't we simply let it go and give it away for good? Location, location… I mean habit, habit, habit. Same mind, same thoughts, yet is it? We have so many more tools to apply after studying the Dharma and practicing what we learn. Thank goodness for our teachers, friends and this amazing Center. Yes these thoughts drop by like old friends, yet they slip away and don't stay in our living room and sleep on our sofa as long as they used to right? A little visit now and then can be almost as pleasant as the hummingbird that hovered right by my head this morning. "Hello dear, thank you for the reminder that we have come this far and we are heading in the right direction." And another smile; the hummingbird was drawn by the basket of bleeding hearts.
Sending love,
Jill
ps. "We shall not cease from exploration and the end of all our exploring will be to arrive where we started and know the place for the first time."~ T.S. Elliot
Side Note: (June 26, 2017)
Time away comes in many forms. Edith Wharton times might take us to a summer home for a lingering three months rest. A contemporary opposite, the one-week trip to Disney World, while not a rest, offers distraction. From vacations to staycations, from Paris to Dharamsala, Kiev to St. Thomas, or Reykjavik to Orlando we like to get away. We go to the beach, the mountains, other cities and other countries via camping, backpacking, hotels, motels, cabins, bed and breakfasts and my personal favorite, the airbnb.
Since the siesta hasn't made it to the American workforce just yet, our time away can be as simple as a meditation whether a moment to focus on our breath in the middle of the mayhem or just to take in the beauty of our own back porch before the mayhem starts.
May you each find the rest you need this summer and … if you come to the Center and I'm curled up under the desk, don't wake me, I'm petitioning for the siesta :-)
Sending love,
Jill
ps. "Spread love everywhere you go. Let no one ever come to you without leaving happier." ~ Mother Teresa
Side Note: (June 11, 2017)
Sending some simple love and gratitude for the many many happy hearts and minds that made our 25th Anniversary such a wonderful evening. Just like we imagined, new friendships were formed and old ones reaffirmed.
From a seed to a garden...we are now in the garden of our future and I look forward to the next 25 years with each and every one of you.
Sending love,
Jill
ps. "To plant a garden is to believe in tomorrow." ~ Audrey Hepburn
Side Note: (June 6, 2017)
Over these last busy weeks getting ready for the gala, this line stuck in my mind: "Apply the right tool at the right time." While we usually reference this to mean which tool is needed to transform our thoughts, it related quite well to a project around here. We have tried to remove the wood and metal posts at the extra parking spaces for years now. The wood ones came down in the stealth of night while the metal ones had more issues. Some tried to pull them out of the concrete with a car, recently others tried to use a grinder, discussion of a sawzall came into play until one day, the parking lot resurfacing crew mentioned they had a torch and with one call and in 5 minutes the poles were gone.
Sometimes things are just that easy and sometimes it feels like we are trying to push 25 foot square tubes with Velcro inside smaller 50 foot round poles with the opposing Velcro. Jeez. If we only had the right tool life would be a dream. Yet where we would learn about patience? Yes, persevere… and know where to find the right tools. (Thank goodness for Geshe-la!)
Sending love,
Jill
ps. "Everything is simpler than you think and at the same time more complex than you imagine."~ Johann Wolfgang von Goethe
Side Note: (May 19, 2017)
Did you know Pandora radio now could tell you how many hours you've listened to a specific channel? When I think of all the effort we went to 'back in the day' to have portable music, Internet radio is strangely interesting. It feeds our attachment faster than eating microwaved brownies and so much easy than carrying a pouch of cassettes on the plane. With one click it's cleaning to Irish punk, working to Bill Evans and when overwhelmed, Gregorian chants provide the calm to the powerful storm. Yes this is extremely mundane, so when coupled with the member's happy face that told me about an app that can log your meditations, the switch went off. "This helps me challenge myself, and now I've done 30 days straight!" The 283 hours of "Chances Are" radio slipped away. We in the west love a challenge, so let's all give ourselves a meaningful one. Knowing every word of "Summer Place" doesn't hold a candle to memorizing the 21 Taras!
Sending love,
Jill
ps. "There are no gloomy skies when seen through the eyes of those who are blessed with love."~ Max Steiner (hear Andy Williams?)
Side Note: (May 8, 2017)
"Only carry what you can carry." Geshe-la talked about this Tibetan saying in our Wednesday night class and it feels like a motto many of us need to hear. Not just 'carry what you can,' or 'Only carry what you can,' it's 'Only carry what you can carry.' He explained if you place a 100 lb pack on a tiny squirrel it would drastically harm the poor fella. We're not much different. Too much and we feel crushed, not enough and we aren't engaged in life. Geshe-la also reminded us sometimes we feel if we can't carry a 100 lb pack we shouldn't carry anything at all, that won't help either. You can carry something, you can start with what works for you. Most importantly, start! And it starts by thinking something good for you, your friends, your country and then all beings everywhere in the three times and ten directions!
(If you need a reminder to 'think something good,' we have just what you need available in the bookstore now:-)
Sending love,
Jill
ps. "If you don't like the road you're walking, start paving another one."~ Dolly Parton
Side Note: (April 24, 2017)
Looking for ways to be generous? We thought so. When your children ask for snacks, invite them to grab 2 of each saying, "One for us and one for The Kadampa Center!" When you are shopping at Costco, grab 2 bundles of trash bags and drop one off at the Center during the week, at your next class or Sunday morning. Ordering copy paper on line? Order an extra one for our office and if you make it your favorite color the next bulletin will be printed on it!
We are like any organization with behind the scenes everyday needs from toilet paper to an offering of lunch for the board meeting. Our wish list is on the KC website to use while making your to do list or access while you are at Harris Teeter. Feel free to call with any questions and don't forget to fill out an in-kind receipt located on the office door for clean accounting!
There is one item we have an overwhelming abundance of…Tea. For an alternative, order our Kadampa café kerig cups of coffee instead, (our director likes dark roast.)
Sending love,
Jill
ps. "Would you like an adventure now, or shall we have our tea first?"~ Alice in Wonderland
Side Note: (April 10, 2017)
"Keep going," "Keep on keepin' on," "Just do it," "Never give up," "You got this;" All slogans meant to inspire and basically finish what we set out to do; one you'll even recognize from His Holiness. While tasks are as simple or as difficult as the karma involved, sometimes we feel like we are wading thru mud in boots loaded with kryptonite and sometimes it's a click away to solve an issue. However easy or not, we need to be reminded what grows out of the depths of mud; beautiful lotus blossoms that dragonflies can light upon.
Geshe-la spoke about perseverance Sunday and reminded us that it's one of the six perfections. Yes, we have to have a wish for anything to begin yet it's the effort that makes it happen. Recently there was a task to do for our new Lama Atisha statue and while it required a tad bit of perseverance and skills learned from Nancy Drew, it's done. We listened to our teachers advice, planned, implemented the idea, applied effort and one day soon we will all be sitting in front of a new beautiful holy object. Our collective karma is amazing!
Or perseverance can be as mundane as when you finally finish setting up the kitchen after a move and find 2 huge boxes buried in the studio labeled "kitchen." I got this, and it's definitely a first world problem. One day the boxes will be empty… even though they already are.
Sending love,
Jill
ps. "At the end day, the old place is empty, and the new place houses all of our stuff. Unpack all the crap in the cardboard boxes. It wasn't that bad; no, it wasn't so rough."~ Louden Wainwrightiii (listen)
Side Note: (April 3, 2017)
How many people do you know that have a cold today? It certainly is the season. Maybe it's the same cold that has existed since the dawn of time and keeps on keepin' on through time and tide, morphing and changing. The word 'contagious' conjures up something icky, yet this video (I'm sure you've seen) opens up a whole world of the pathway to thinking of others. Who benefits in the end? We do, even if not directly. Of course everything we do is contagious in one-way or another. Even the opposite has to be considered, as harsh words can spread like the flu in a tent on a rainy day.
In the end the more we reach out, the more we create the world we want to live in.
Now go be contagious! Just make sure those hands are washed thoroughly.
Sending love,
Jill
ps. "Did you hear the joke about the germ? Never mind. I don't want to spread it around."~ The interwebs
Side Note: (March 27, 2017)
There's nothing like a move to show how materially possessed we all are. It's time to start collecting something different that won't take up any space: Noticed acts of kindness. Here's the new collection thus far:
1. Kindness shown to a homeless woman who is raising a teenager: Knitting her special items, bringing her necessities and staying in touch consistently.
2. Kindness shown to her friend who can't hear well: Typing amazing notes from Geshe-la and sharing each week.
3. Kindness shown to refugees and their families: Getting them enrolled in school, finding jobs, furniture and homes.
4. Kindness shown to CM: All the offers to move the conventionally existent stuff from one place to another.
I look forward to adding to this list by becoming more aware of those of you who are rockin' the kindness thing. (Thanks, yet #4 will be taken care of by strong men and a big truck.)
Sending love,
Jill
ps. "Collect things you love, that are authentic to you, and your house becomes your story."~ Erin Flett
Side Note: (March 13, 2017)
A Sunday or two ago my preferred gompa seating location was full to the brim so I sat in the back 40. While the wider perspective was a tad more distracting it was curious at the same time. Eventually the nestled feeling of Geshe-la's cadence and laugh brought that sweet sense of perfection in the moment. Every so often a voice cleared behind me and the mere knowledge that I knew exactly who it was warmed my heart. How lovely that we know each other so well. My gaze wandered around and a cozy closeness formed for everyone in the room.
"Whether one is rich or poor, educated or illiterate, religious or nonbelieving, man or woman, black, white, or brown, we are all the same. Physically, emotionally, and mentally, we are all equal. We all share basic needs for food, shelter, safety, and love. We all aspire to happiness and we all shun suffering. Each of us has hopes, worries, fears, and dreams. Each of us wants the best for our family and loved ones. We all experience pain when we suffer loss and joy when we achieve what we seek. On this fundamental level, religion, ethnicity, culture, and language make no difference."
~ His Holiness the Dalai Lama
Here's a wish for all beings to have a version of gompa warmth in their life.
Sending love,
Jill
ps. "I literally could not feel more cozy right now if I were actually inside a marshmallow." ~ Alice Clayton
Side Note: (March 6, 2017)
A lovely part about this position is being here for visitors. When the door chime dings, potential walks in. It may be grief, joy, anger, deep interest or simple curiosity that draws folks here. They may have driven by our beautiful 'sculpture' out front enough to finally turn in and ask what it is or there may be years behind the decision that one day brings them to our front door. Whatever the reason, every person, every moment is an opportunity to be open, kind and loving. Today a curious young Christian college student studying religion dropped by and we had a nice chat during his tour of our Center. He wants to learn more about all religions. While most ask questions for a specific class, he seemed to want to learn so he could be open, kind and loving towards all. There is nothing remarkable about the meeting today it simply left your CM feeling happy. May we all be curious in this way.
Sending love,
Jill
ps. "The cure for boredom is curiosity. There is not cure for curiosity." ~ Dorothy Parker
Side Note: (February 27, 2017)
It's particularly special when a new person decides to unknowingly make their KC debut during Losar. Dancing, chanting, laughing, music, chatting, drinking, eating, colors…everywhere we looked there was joy in the air. Teenagers were helping set up in the lobby to serve the traditional rice and milk tea, while the music poured out from the gompa giving visuals of the snowy plains of Tibet. The Tibetan community arrayed in beautiful traditional clothing mixed with us North Carolinians donned in Tibetan garb as a young woman graciously offered to reverse my incorrect styling.
Happy faces and connections were to be seen all around. The pièce de résistance is always the wonder of the expressive snow lion. Loved by us all for it's highly charged dance and affect on the children in the room and in all of us.
It was a lovely day indeed leaving us all more connected in the simple pleasures of special holidays even if from a land half way around the world. For one day there was very few miles between us and them.
"I define connection as the energy that exists between people when they feel seen, heard, and valued;
when they can give and receive without judgment;
and when they derive sustenance and strength from the relationship." ~ Brené Brown
Sending love,
Jill
ps. "Someday we'll find it, the rainbow connection. The lovers, the dreamers and me." Kermit
Side Note: (February 20, 2017)
Your CM has been under the weather. As Garfield said, "The only thing active about me is my imagination," and since even that has taken a sick day, here's a quote that seems fitting for the many people who are under the same weather:
"By eliminating the self-pitying imagination of ego, you go beyond fear. All fear and other self-pitying emotions come from holding a self-pitying image of yourself." ~ Lama Yeshe
Aha. I'll get to work on that. Cough, cough.
Sending love,
Jill
Side Note: (February 13, 2017)
Your CM had 5 days of FSS (Foundation Service Seminar) Training. Wow! Amazing people from Centers all around the world attended including: France, Spain, Mexico, England, Austria and even our own Sarah Brooks from New Zealand. We learned, we laughed, we cried, we drank bucket loads of tea while the California deluge nestled us in the dining room during breaks. It was surprising to say the least, how precious our own Center was to them. They knew all about us, our prolific programs, Teachers, communications, website and famous Family Program.
Together, we learned every facet of FPMT and all its website offers. The skits and experiential breakout sessions brought the ideas of "How to avoid burnout," "How to make work and volunteering an engaging practice," and "How to inspire." What's the takeaway you ask? During our practice, volunteering and projects, the best medicine for Rinpoche's and our Teacher's health is Harmony. Bottom line: Kind words.
There are 166 Centers and study groups world wide now in Lama Zopa Rinpoche's mandala. It's endearing to feel this connectivity. Wherever you are reading this right now, you are connected to the whole Dharma family, and we are all working to bring happiness to all beings everywhere all day everyday.
We are not alone.
Sending love,
Jill
ps."I wish my friend's houses were connected to mine via secret tunnels." ~ social media

Side Note: (February 6, 2017)
"Travel far enough you meet yourself."
Your CM is in CA taking some FPMT training, so a travel quote seemed fitting. This quote is from the movie "Cloud Atlas." Many of you have received my wholehearted recommendation of this movie to add to our Buddhist 'fav' movie list. Joseph Campbell, one of my 'fav' guys, also said:
"If you travel far enough, you'll eventually meet yourself."
Joseph's quote predates the first one and this made me think about the essence of both. We meet ourselves in the aspect of how we see ourselves reflected in others and this can be sweet or sour. If you've ever witnessed your child talking to their baby doll, you'll get an earful of your own mothering techniques. The first quote may be alluding to our consciousness traveling from life to life and the continuity of our habits and predilections. Either way, our inner search is the method of travel that is not only the most cost effective (unless it's years of therapy,) it's the greatest adventure of all!
Safe Travels to each of you.
Sending love,
Jill
ps."I haven't been everywhere, but it's on my list." ~ Susan Sontag
Side Note: (January 30, 2017)
"Fill your heart with love today
Don't play the game of time
Things that happened in the past
Only happened in your mind
Only in your mind-forget your mind
And you'll be free-yea'
The writing's on the wall...
Gentleness is everywhere
Fear's just in your head
Only in your head
So forget your head
And you'll be free...
Gentleness clears the soul
Love cleans the mind
And makes it free!!" ~ David Bowie
Side Note: (January 23, 2017)
"May you have plenty of grist for your mill. Love Frank." Digging through the memory trunk from my childhood, I found this in my old autograph book. Seems a strange yet wonderful entry for a kiddo. Recently a loved center member told me "Use that as grist for your mill," a theme for 2017 in the making?
Looking back over our lives I bet we could all say we've had plenty of grist, thank you very much, yet as compared to millions of people that grist is but a fine dust. The origin of the quote is "All things are a potential source of profit or advantage." A message Lama Zopa Rinpoche, Geshe-la and all our Teachers are trying to impart to us with the profit or advantage as happiness! Even at the most difficult times of our lives, bearing hardship can be just the grist we need to propel us towards a happier mind. Counterintuitive? Maybe, but looking at grist with new eyes may be just the ticket we need.
Sending love,
Jill
ps."Fall seven times and stand up eight." ~ Japanese Proverb
Side Note: (January 16, 2017)
"Something new come down…?" Bartholomew gasped. "That's impossible, Your Majesty. You just can't have it." Do you recognize the beginning of Bartholomew and the Oobleck? Seemed like a fitting inspiration post snowpocolipse to sunshine and 72 degrees. We have too much of one thing and then we wish for something else and so our story goes. What was surprising in the 'intellectual' research of this story is the actual moral. It wasn't so much about boredom and control but about saying "I'm sorry." Didn't remember that part. The briefest of research said "Cause and Effect." While the King struggles to think of the magic words that will make the oobleck stop falling, Bartholomew says,
"YOU ought to be saying some plain simple words!" "This is all your fault! Now, the least you can do is say the simple words, 'I'm sorry'."
If you forgot the ending, there was indeed something magic in those simple words. Then sun began to shine and the oobleck simply, quietly melted away.
We wish for something, it makes others suffer, we own it, and we apologize.
We have another book to add to our Buddhist shelf.
Sending love,
Jill
ps."I once had a thousand desires. But in my one desire to know you, all else melted away." ~ Rumi
Side Note: (January 9, 2017)
Our "Church" software you have heard so much about as of late has live tech help that are such a blessing it clears away more than technical cobwebs. Twice now at the end of a lengthy session, the question "Can I ask you something?" was quietly spoken. "Of course," your CM replies. "Is there a Buddhist place close to me?" She asked. The lively chat that ensued followed her travels as a child from Ethiopia where she lived among Coptic Christians to Japan where the essence of Buddhism thrived. She explained the Coptic Christian's faith was something you could sense from them because they were one with it. "I've walked where Jesus walked and it's so much I can't explain it." In Japan she learned wonderful things about how everything comes from the mind. In closing she said, "It doesn't matter what anyone is, [faith] it matters what they are at the base. What works for you and makes you a better person, whatever brings you peace, tolerance and happiness, be it. That's what I believe."
Amen sister, again I say amen.
Sending love,
Jill
ps."If you want to walk on the water, you've got to get out of the boat." ~ John Ortberg
Side Note: (January 2, 2017)
Write a few words, eat a little peanut brittle; all in a day's work. If you guys bring any more gifts to your CM, you will have to roll her around the stupa! Christmas is over, 2017 is here so let's bring on normalcy, every day rituals and classes with Geshe-la. Sounds like a dream. Good riddance 2016. While you are merely labeled a "year" it's one we're happy to say farewell to. As glasses of sparkling cider were raised and toasts were given, the KC family was in this gal's heart and mind. May each and every one of you, all the beings above and all the beings below, be blessed from this moment on by your good hearts and minds till we all meet at the big enlightenment party.
Happy New Year loved ones.
Sending love,
Jill
ps."Forever, and forever, farewell, Cassius! If we do meet again, why, we shall smile; If not, why then this parting was well made." ~ William Shakespeare
Side Note: (Dec 19, 2016)
There's a good movie out you can add to your pseudo Buddhist movie list as a thought provoking, uplifting holiday must see called "Arrival." It's not a give away plot twist to let you know it's about communication. The words "Language is messy," are rolling around in the grey matter. What we think we're saying is so easily lost. A simple wish for you this season is for us all to have the karma for our communication to be clearly understood and for it to be kind in both directions. At least we can always smile. As the Dalai Lama said, "If someone does not smile at you, be generous and offer your own smile. Nobody needs a smile more than the one that cannot smile to others."
Happiest of Holiday times to you all.
Sending love,
Jill
ps.""Everyone smiles in the same language." ~ George Carlin
Side Note: (Dec 12, 2016)
Last summer on retreat at Vajrapanni, there was a t-shirt with the slogan "Good enough, dear." It was one of Lama Yeshe's most encouraging and comforting expressions. "When Lama said it, it conveyed a kind of profound caring acceptance of both one's efforts and one's limitations." Wouldn't it be lovely if for one day we all wore this slogan pasted on us? I wear it when I teach yoga to remind myself and the students to remember it's 'practice,' not 'perfect.'
During this holiday season while you are spreading cheer, spread a little ease as well. We could all use a nice relaxed sigh of being perfectly good enough.
Have a Happy Holiday dear ones that comes without ribbons, comes without tags, without packages, boxes or bags… cause it doesn't come from a store, it's perhaps a whole lot more.
Sending love,
Jill
ps."You are you. Now, isn't that pleasant?" ~ Dr. Seuss
Side Note: (Dec 5, 2016)
Do you smile when you pass your first Christmas tree of the season tied down to the top of a car… then next a little panic ensues for what this symbol represents to our efforts, schedules and bank account? Not to mention the irony of Buddhists and Christmas. It's all kind of humorous. Personally the "every other year Christmas Plan" sounds good. How can we end a year we just got started? Since the 2017 train cometh we might as well hop on and enjoy the view.
Whether you have a Charlie Brown Christmas tree or one dressed up like it's going to a party at the Ritz, may it be joyful. Whether you discover your OCD when you let kids hang the ornaments wherever they want or you choose to simply hang a strand of lights on a plant, may it be joyful. Whether you stay home from all the parties and hubbub or wear flickering light bulb earrings, may it be joyful. It's all good.
Suggestion: Try Vince Guaraldi Trio (Holiday) radio on Pandora; it soothes the Christmas edges.
Sending love,
Jill
ps."It's not the load that breaks you down, it's the way you carry it." ~ Lou Holtz
Side Note: (Nov 28, 2016)
Whether you traveled far, hung out with family and friends or stayed home in Pj's here's hoping you return to work today refreshed, well fed and ready to take on December with gusto! Yes, the end of 2016 cometh. How does it take us by surprise each year? As we all wind up merely to wind down, in this twinkling of a moment everything is perfect…and in this moment too. We can stack them all together and feel overwhelmed or see them one by one and know it's all going to be fine in this moment…and this one too. It's the moments where we live.
Sending love,
Jill
ps."In the external scheme of things, shining moments are as brief as the twinkling of an eye, yet such twinklings are what eternity is made of -- moments when we human beings can say "I love you," "I'm proud of you," "I forgive you," "I'm grateful for you." That's what eternity is made of: Invisible imperishable good stuff." ~ Fred Rogers
Side Note: (Nov 21, 2016)
"I am grateful for what I am and have. My thanksgiving is perpetual…O how I laugh when I think of my vague indefinite riches. No run on my bank can drain it, for my wealth is not possession but enjoyment."
~ Henry David Thoreau
Happy Thanksgiving from all of us at the Kadampa Center!
Side Note: (Nov 14, 2016)
People traffic at the Center has increased as of late. Seems a little time in the gompa, walking around the stupa or a hug has been of benefit. This time it's not due to Pokémon GO. We all need a bit of a peaceful setting when things get uncomfortable. Just know you are welcome here anytime to get your chill on. That's all.
Sending love,
Jill
ps."There are no strangers in here, just friends you haven't met." ~ Roald Dahl
Side Note: (Nov 7, 2016)
Tomorrow we will know the outcome of the election. If a Democrat wins, we work with our minds. If a Republican wins, we work with our minds. This is all there is to do.
Sending love,
Jill
ps."The Buddhists think that, because we've all had infinite previous lives, we've all been each other's relatives. Therefore all of you, in the Buddhist view, in some previous life ... have been my mother - for which I do apologize for the trouble I caused you." ~ Robert Thurman
Side Note: (Oct 31, 2016)
Shaking the Tree. A song by Peter Gabriel comes to mind, because it's autumn, and because life can feel like we're being shaken on many fronts. Globally, politically, personally, spiritually, you name it. We know it's what's to be expected in this dream like state we live in. Whether a tree shakes from it's tips in a soft breeze or whipped about in a strong storm, trees will shake. In fact it's proven that trees are made stronger by bending in the wind. I guess the trick is to bend enough and not get ripped out of the ground in a hurricane like the one in my back yard. At least we have some nice firewood for the winter.
Sending love,
Jill
ps. "Even if I knew that tomorrow the world would go to pieces, I would still plant my apple tree." ~ Martin Luther
Side Note: (Oct 17, 2016)
Hope you all enjoyed Karuna Cayton's Teachings recently. He speaks so clearly on how to transform mundane problems into causes for a better mind. Thinking that problems exist outside of us is the reason we struggle everyday in every way. To add icing on your funnel cake is to begin to welcome life's constant stream of annoyances with avid happiness. Never easy yet each October I'm the luckiest gal in NC to have such good fortune to try this theory! Living in the neighborhood that borders the fair could catapult one towards the bullseye. Here's a look at 10 blissful days:
The amount of cars alone is 500 times greater than usual as neighbors swing flags imploring you to park in their rutted front yard. We used to try to give sign language to say, "We live here," now we just wave and smile. Now instead of closing the doors to the unimaginable roar of the demolition derby, we take Saturday morning tea on the front porch finding a newfound way to loosen stubborn earwax. Each night at 9:45 sharp, the artery vibrating fireworks extravaganza and the sleeping puggle jolted into a protective barking frenzy used to wake up the youngin'; now we mute the TV, laugh and thank him for keeping us safe from impending doom. Fortunately the teenager can go to the fair with friends and mom can sit at home with her feet up eating a candy apple delivered to her door by the nuns having enjoyed a day out with no-charge parking. Only 7 days to go…I could sure go for some kettle corn if anyone else needs some mind training.
Sending love,
Jill
ps. "The odds of hitting your target go up dramatically when you aim at it". ~ Mal Pancoast"
Side Note: (Oct 3, 2016)
The shifts that soften our mind are like ripples flowing out with unknown effects. As we practice kindness more and more, what we used to do, say or think may now feel uncomfortable. We've all experienced this when we say some familiar idiom and it sounds harsh where before we never gave it a thought. To this end, here are a few shifts to give you a smile and a new perspective for the week.
"Feed two birds with one seed"
"Don't throw the banana out with the banana peel"
"That's no skin off my avocado
"That's as easy as giving a penny to a beggar"
"That costs a ship and a yacht!"
"Curiosity taught the mouse"
Find all the origins? Feel free to add these to your lexicon (and using lexicon in scrabble could get you 16+ points!)
Sending love,
Jill
ps. "The same boiling water that softens the potato, hardens the egg…" ~ unknown
Side Note: (Sept 26, 2016)
Geshe-la is on break starting today, we are weeks away from the fair and cool winds are just around the corner… anybody else feel like they just popped out of the bright blue police box in another time zone?
The fast paced march of time is simply a shift nothing more. All we do everyday in everyway is merely a collection of moments piled up and masked as "coffee with a friend," "deadline at work" or "time spent reading." As Rinpoche has been vividly teaching, it is how we spend the moments more than the event that makes life meaningful and beneficial. Remembering to live in this way is key!
Yes, Geshe-la is leaving, the fair is coming and cool winds are starting to blow, yet what's happening in your mind at this very moment? May it be meaningful, may it be beneficial.
Sending love,
Jill
ps. "I am well again, I came to life in the cool winds and crystal waters of the mountains." ~ John Muir
Side Note: (Sept 12, 2016)
"Let go or be dragged." I bet you could find many an application for this quote said this week. Tears wanted to come yet that would be missing the point. Evocative indeed. When we move through sadness it's easy to forget that we in fact moving.
Feeling good? This too shall pass. Feeling bad? This too shall pass. Feeling sad? This too shall pass.
We've all been circling through this crazy minefield in a myriad of ways and until we truly let go, it will be a long Ferris wheel ride. While we wait for the ride to end, I'm grateful we've been riding together.
Sending love,
Jill
ps. "Life is like riding a bicycle, in order to keep your balance you must keep moving." ~ Albert Einstein
Side Note: (Sept 5, 2016)
How to sum up 2 weeks with Lama Zopa Rinpoche? Powerful. We had 4 sessions per day in the gompa for 13 days = 52 sessions and Rinpoche taught 29 times. When he would lean in and look right at us and say, "Do you understand? Do you understand?" We would nod yes and when he said "Write that down, very important, very important." Heads dipped and pens lifted. I think many of us felt like we received everything we need to get our act together fed to us with a golden spoon. So much advice and so dear. It was truly an amazing experience. It's all available on the FPMT site here so you can "Write it down" and then you will understand.
Sending love,
Jill
ps. "Yesterday you said tomorrow. Just do it." Nike
Side Note: (Aug 8, 2016)
Do you get your long to do lists finished, ticked-off, finito, when company is coming? I sure do. All the pictures hung, the piles of items on the counter put away and the cobwebs cleared just in time when the doorbell rings. That's what's happening at the Center now. It's is all a buzz with volunteers and projects getting done left and right in preparation for Lama Zopa Rinpoche's visit. There's a definitive charge in the air. We are so fortunate to have an amazing group of volunteers helping in so many ways. When you think about it, not only do we have our precious Teachers Geshe-la and Geshe Sangpo here all the time, are gurus are always with us. They live in our hearts and our minds from day to day and minute to minute. We are never alone and never without their desire for our happiness with every breath we take. Living in their presence is the way to take the essence of the Teachings to heart and the best way to please them is to live the Dharma.
May you all feel the love right here in the moment and all the way to enlightenment…and may all your pictures hang straight.
Sending love,
Jill
ps. "I think the way to solve the problem of procrastination is to let delight pull you instead of making a to-do list push you." ~ Paul Graham
Side Note: (Aug 1, 2016)
Many of you already know my father passed away July 28. Thank you so much for your kind thoughts and expressive words of love. The connection we all have to each other at the Center is so strong and during times like these it's made evident. Each of you responded with an action phrase about good wishes for his rebirth and a pouring out of prayers. It doesn't feel like there is much we can actually do when one passes, yet in this tradition there is! In other circles, my friends talk of my loss only. It makes for an interesting noticing. Certainly we alone grieve and we alone feel the loss, yet how wonderful to know folks are thinking of my father and his rebirth. He lived in Raleigh for many years and with Miranda and myself for 7, so some of you met him. I'll always see his little smirk when he was getting ready to tell a joke…a really bad joke. There are so many good qualities to remind him of as he makes his transition.
Sending love,
Jill
ps. "What we have once enjoyed deeply we can never lose. All that we love deeply becomes a part of us." ~ Helen Keller
Side Note: (July 25, 2016)
Many people stop by the Center throughout the week; some drive up and never walk in, others want the 50 cent tour. We'll never know what draws folks to us or do we...there is a new game in town, literally not figuratively. Depending on your age, or your mental fun age, you may or may not have heard of Pokémon Go. Whatever arises when you see the word there's a positive twist sure to give you a smile.
Who would have thought The Kadampa Center would be part of an international game with two PokeStops. I recognize this isn't fascinating, yet if you were to sit by the front door and watch people drive up to collect their Poke items day after day you'd smile too. When they get close to our Center, the game, which is connected to GPS, shows them a picture of our "Golden Statue" and "The Stupa." This brings joy to know each person gets the imprint of seeing the Buddha and an amazing representation of enlightened mind.
There is a story behind what brought each of us to the Dharma. Everything is connected, everything is interdependent and everything is beautiful. We truly never know what each moment will bring to our lives…or our many future lives. Pokémon Go could indeed be the cause for the enlightenment of all those wondering ones playing on their phones till 2 a.m.
Sending love,
Jill
ps. "Everything is beautiful in its' own way – Like a starry summer nights or a snow covered winter's day." ~ Ray Stevens
Side Note: (July 18, 2016)
Searching through some FB posts from fellow Centers for a picture (all business related I assure you,) I found this link to the retreat I and a few members recently returned from entitled "The 4 Awakenings "by Venerable Rene. In his introduction, recorded here, he outlines the topic. It's so lovely that I'm moved to share it with you all. If you know him, you'll hear his soft accent as you read this:
"The first is to awaken to our basic goodness. To recognize that you don't need to do anything ...You are a beautiful being and you don't need to do anything more than to recognize your inner beauty. That is the first awakening that I wanted to experience together. Recognize how precious, how beautiful it is to be just a human being with feelings and so forth…"
I'll leave you with a warm happy heart and the opportunity to listen and awaken.
Sending love,
Jill
ps. "Somewhere, something incredible is waiting to be known." ~ Carl Sagan
Side Note: (July 11, 2016)
You know how Christmas comes slow to a child and a blink to us? That's the feeling of the occasion of this note. One year under my Center Manager belt now complete! The passing of this mile marker prompts a mushy side note to say it's been an honor and delight to work for you ALL this year. When walking around the stupa every morning before sitting down, I am more than grateful to able serve you, our Teachers and the Dharma every day. It is still a dream come true 365+ days later.
The days are filled with everything from redesigning our space and our communication systems up to welcoming visitors, many of whom are now regular attendees or members. Some changes are simple and easy to implement while others carry a heavy deliberation. One such decision is selecting new software to run our entire Center. Soon we will move to a system called "Realm" which will eliminate our need for many ancillary operations and merge all into a manageable one for Amanda, the office manager, and myself to be able to serve you all more effectively. This new system will offer you the ability to retrieve your data whether about classes you've attended; donations given or finding the name of someone you met last Sunday. We will have easily accessible tech support to reduce the costs of hours needed for our accountant and eliminate the need to hire another administrator.
We all have the chance to work to create harmony every day of our lives; I am simply blessed to have this be my job description! Thank you for affording me this opportunity from the bottom of my heart.
Sending love,
Jill
ps. "You don't get harmony when everybody sings the same note." ~ Doug Floyd
Side Note: (July 4, 2016)
Each day, or for some, each moment, life tosses us back and forth, hither and yon mentally. Rarely do we feel a steady stream of calm and quiet except after leaving Geshe-la's Teachings :-)
This came to mind the other day when I emptied the washing machine to find something stuck to the side of the drum. What was that? Shoot, it was a daddy long leg's spider all flattened. I felt bad and reached in to carefully pull him out prepared to say some manta's and blow on the poor little guy. As I held him carefully by one leg, he dropped to the ground and ran off like the wind! What the heck? Either that was a powerful mantra, which I doubt hit it's target, or this was one tough spider. How did he make it through a wash cycle, a perverbial hurricane with a load of clothes, and come out the other side alive and ready to run? It certianly took me by surprise.
Instantly it came to mind how fortunate we are to not be so vulnerable and live in horrible conditions where we are literally thrown hither and yon. It just feels like it sometimes. I hope we all have the courage and the fortitude to hit the ground running like the wind when faced with our own inner hurricanes.
Sending love,
Jill
p.s. "You can dance in a hurricane, but only if you are standing in the eye." ~ Brandi Carlile
Side Note: (June 27, 2016)
Your Center Manager will be on retreat this week at Vajrapani Institute getting her mind in order to come back and be ready for more! Have a lovely week everyone.
If you would like more info about retreats at this sister FPMT Center click here.
Sending love,
Jill
p.s. "How lucky I am to have something that makes saying goodbye so hard." ~ Winnie the Pooh
Side Note: (June 20, 2016)
Are you a roll over or a roll under? A funny question raised to many a group of people during workshops on how to be happy. Folks get to choose from a picture of a toilet paper roll. Version A: Roll over or Version B: Roll under. The responses are fraught with emotion and outbursts of what is 'correct.' Usually someone will yell out "It's A, and B is just flat wrong!" Some say "Where ever I go, I change it to the right way." Others say "My wife always puts it on wrong no matter how many times I tell her how to do it." You can imagine the lively discussion that ensues. Do you yourself have a strong response to this bathroom dilemma?
The point of course is that it doesn't really matter, it is just TP after all. It's proven the more we need things to go our way the more unhappy we will be. If you feel strong about the way things should roll yet you want to be happier here's an idea: Until you receive the next This Week in your e-mailbox, purposely put the TP on the way that doesn't work for you or leave it if it's 'on wrong.' I recognize this may be too hard for some, if so try something easier like let the toothpaste get squeezed from the middle. If this makes you squirm beyond your comfort zone find something you can give on and be ok with. In the end it is so much more comfortable than that hamburger sales pitch taught us. Have it someone else's way and see what happens. Could be a miracle in the making!
Sending love,
Jill
p.s. "Life is like a roll of toilet paper. The closer it gets to the end, the faster it goes." ~ Andy Rooney
Side Note: (June 13, 2016)
"We're not on an island we're on a boat." Somebody said this the other day and it stayed with me. More meaning tagged along after the Teachings from Venerable Amy. No matter where we go or what we do we have our minds to take us wherever we need to go. Some of the boat excursions are on smooth lakes with full sails, sunshine, friends, plenty of delicious drinks and hors d'oeuvres. Or maybe we're in the middle of the sea with no wind, the sun beating down and lack of sustenance. Maybe we're on a shiny white yacht, staffed and in full regalia, on the way to some exotic destination. Other times we're in a dingy on the ocean with a storm front approaching and fins circling. No matter the circumstances our minds are there to help or drive us nuts. What we forget is we have the tools, we can set the sails, plot our course and get out of the way of our own obstacles. Everything we need is here, our Teachers guide us like the stars above on a dark clear night. I should really learn those constellations…
Sending love,
Jill
p.s. "Follow your bliss and the universe will open doors where there were only walls." ~ Joseph Campbell
Side Note: (May 30, 2016)
We talk often about 'firsts.' The first laugh, the first kiss, the first day of school; all mark beginnings and wedge in our memory like a keystone in an old Roman arch. Lately however, social media is talking of 'lasts.' Graduation pictures fill our screens marking the last day of high school or college yet it's also another beginning, the topic of many a commencement speech.
Sometimes 'lasts' are a relief; "It's the last day I have to see my math teacher." Sometimes 'lasts' are filled with sorrow; "I'll miss you to the moon and back." One day we'll say "This is the last time I will roll my eyes at ____," "This is the last time I will talk bad about ____" and eventually, with our clear and knowing minds, we'll say "This is the last time I will see all beings as separate from myself." We can tap into that mind. It's already here only obscured like a window smeared with layers of grim and lifetimes of struggles. It may seem impossible yet we know we are capable of leaving bad habits behind. When's the last time you actually threw yourself on the ground in a rage because you couldn't have a lollipop? So keep on keepin' on, drop by drop a sippy cup gets filled.
Sending love,
Jill
p.s. "The water hollows out the stone, not by force but drop by drop." ~ Lucretius
Side Note: (May 23, 2016)
"Cash Back. Rewards Ahead." Patiently waiting for the bank teller gave me time to look around and notice the flyer at the counter. A clever 'etching' of a man with white hair tied into a ponytail with a ribbon and the word 'notgnihsaW' beneath. Clever indeed. He's looking away from us towards his rewards, that first president of ours. It's strange looking at the back of his head, but like a good story it makes me wonder, "Where is he looking?"
If we made a nifty flyer at the Center we could say "amaL ialaD." What would His Holiness be looking towards? The enlightenment of all sentient beings! We have our rewards ahead when we start to change our minds. As our old habits melt away, we get a glimpse of how happy we can become and then we can really be of benefit. That clear and knowing mind is in here somewhere! So keep the faith, we're getting somewhere…and we're going there together. You are not alone.
Sending love,
Jill
p.s. "Good things come to those who believe,
better things come to those who are patient and
the best things come to those who don't give up." ~ The Interwebs
Side Note: (May 16, 2016)
Looking at the Lama Yeshe Wisdom Archive (LYWA) rack, there is quite a gem of a little book written by Lama Zopa Rinpoche about parenting. In it he speaks from the heart about planning for, raising and teaching children to be happy, helpful and prepared for future lives. There is one beautiful prayer you may find beneficial as a parent…
"May my children develop the same qualities as Tara (or Chenrezig, Manjushri, Medicine Buddha, or Lama Tsongkhapa) in this very lifetime and be able to do perfect work for sentient beings, freeing them from oceans of samsaric sufferings and bringing them to full enlightenment as quickly as possible."
Rinpoche explains we can teach our children how to generate a good heart with the Seven Foundations: Kindness, Rejoicing, Patience, Forgiveness, Apologizing, Contentment and Courage.
"Success is not about having money; success is about having a good heart. That is the main education you should give your children." LZR
We can all be eternally grateful for knowing our children have met the Dharma, qualified teachers and have an amazing family program.
This book had a limited publication, yet here is a link to the pdf.
Sending love,
Jill
p.s. "You, who are on the road must have a code that you can live by…" ~ Graham Nash
Side Note: (May 9, 2016)
I met with a member the other day to discuss a great idea for something she wanted to do for the Center. What ensued was a lovely conversation about our history, where we are now and where we want to go pertaining to how folks 'engage' at the Center. She gave me a line she liked that I thought worth sharing…
"What you are is what we want." I've kicked this around and it seems to be what we all need to hear. We hope when you come to the Center no one ever feels "What you will do for us is what we want." It's about who you are right now, in your life and in your practice – it's perfect.
So come as you are and let us support you on your path.
Sending love,
Jill
p.s. "Some people cross your path and change your whole direction." ~ unkown
Side Note: (May 2, 2016)
New catch word around and about? "Monotasking." Isn't this fitting after a weekend of Calm Abiding Teachings from Geshe-la about concentration? Thousands of years of practice prove that to focus clearly on one thing is the very practice that leads to liberation. The ability to give our attention to a single thought or action is rapidly leaving our skill sets. In our great age we think we're getting somewhere when we are great multi-taskers, yet we are leading ourselves into distraction. So here's a Challenge….
Since we are getting closer to the LOP retreat, let's heed Lama Zopa Rinpoche's advice and try the practices he teaches us in his book "Taking the Essence All Day and Night" (in the bookstore, plug plug.) He gives us advice to "make every moment of life meaningful" in beautiful ways. I'll list a few and let's all pick one to try this week.
When you stand up, think: "May all sentient beings rise up from the oceans of samsaric sufferings."
When you sit down, think: "I am bringing sentient beings to the heart of enlightenment."
When you open any door, think: "I am opening the door of transcendental wisdom gone beyond the world, beyond samsara, for all sentient beings. May this happen!"
When you close the door, think: "I am closing the door of samsara for sentient beings. May this happen."
When you are walking, think: "I am bringing all sentient beings to enlightenment!"
We can practice mindfulness and make our life so beneficial and benefit others at the same time... So by montasking we multitask everyone to enlightenment!
Sending love,
Jill
p.s. "Concentrate all your thoughts upon the work at hand. The sun's rays do not burn until brought to a focus." ~ Alexander Graham Bell
Side Note: (April 25, 2016)
Sometimes when I can't think of the next Side Note, I walk around the stupa waiting for inspiration. Today, as my mind wandered, it suddenly seemed stupefying that there is a stupa less than a hundred feet from my desk chair. Small thoughts can be powerful, which led me to think…
We created the causes to have a Holy Object such as our Stupa, a symbol of the enlightened mind, in our "own front yard." Even just seeing a stupa brings immense benefit, imagine the benefit from the thousands of circumambulations thus far! (read more)
We created the causes to have the teachings spoken in English from extremely learned Geshes and even streamed to our own homes.
We created the causes to have high Lamas like Choden Rinpoche, who has passed now; Khen Rinpoche Lobsang Delek, Geshe-la's teacher; and Lama Zopa Rinpoche, our Spiritual Director, not only come to our country, our state, our city, but to our own Center!
We created the causes to be able to read the Lam Rim from our easy chair when it's the only thing His Holiness the Dalai Lama took with him when he escaped Tibet.
And We created the causes to have each other. I'd say "How lucky are We?" Yet we all know it ain't luck baby.
Sending love,
Jill
p.s. "If opportunity doesn't knock, build a door." Milton Berle
Side Note: (April 18, 2016)
You may have noticed interior changes in our lobby, bookstore, café and meeting area. Thank you for your patience as we too are like our Center – a work in progress. I'd like to reintroduce you to a section of 'Free' books from the Lama Yeshe Wisdom Archive. They have a new prominent home in the lobby and provide a wealth of Dharma and insight.
LYWA has nearly 700,000 books in print, most of them free and translated into fifteen languages; ebooks for a wide range of readers; multimedia presentations; monthly e-letters, social media pages, a YouTube channel, and articles in online magazines and blogs; and thousands of pages of teachings and hundreds of hours of audio freely available on its website.
The Lama Yeshe Wisdom Archive is the archive of the FPMT, the largest Tibetan Buddhist organization in the world. While Lama Zopa Rinpoche named LYWA in honor of his teacher, it contains the teachings of both Lama Yeshe and Lama Zopa Rinpoche who, after His Holiness the Dalai Lama, are two of the most influential lamas in spreading Tibetan Buddhism around the world.
The selections at our Center are made available to you at no cost. LYWA is dedicated to the welfare of all sentient beings and totally dependent upon your donations for its continued existence. These are contemporary teachings aimed at transforming suffering and dissatisfaction into happiness. The Lamas' teachings are practical, living advice for everyone, every day. We have placed donation envelopes on the freestanding spinner in the lobby for your use.
Enjoy…sometimes the best things in life are truly free!
Sending love,
Jill
p.s. "If you change the way you look at things, the things you look at change." ~ Wayne Dyer
Side Note: (April 11, 2016)
I love it when Geshe-la says, "You can't have a headache, unless you have a head." Then there is the preliminary giggle from folks, and next you can watch it sink in to those who've never thought about it before. You can see the new neuronal connections make a shift in their consciousness. That's what we're going for isn't it? It is the very thing that will one-day lead us out of samsara…
Let's see what else can we apply this logic to…You can't have a dirty diaper unless you have a sweet wriggly little one who created it. You can't have the toilet paper on the 'wrong way' unless you have someone in your life that put in on that way. You can't have a flat tire, unless you have a car. You can't have dirty dishes unless you have food to cook. You can't have a controlling boss, unless you have a job. You can't have cat litter mess, unless you have a cat. You can't have teenage angst looming, unless you have a teenager. You can't have pollen unless you have an amazing array of blooming flowers and trees surrounding you. I'm guessing there's no pollen in the desert…just a thought.
Enjoy all the problems in your life, cause it's the path that will get you where you want to go.
Sending love,
Jill
p.s. "Problems are like washing machines. They twist us, spin us and knock us around but in the end we come out cleaner, brighter and better than before." ~ Author unknown
Side Note: (April 4, 2016)
Recently Geshe-la has referred to 'sitting on a box filled with gold while begging' in several ways. I found a reference to this idea in the book "The Joy of Living," one of my favs (and available in the bookstore.) Here's the story:
"The Buddha often compared natural mind to water, which in its essence is always clear and clean...
The first step toward recognizing the qualities of natural mind is illustrated by an old story told by the Buddha, about a very poor man who lived in a rickety old shack. Though he didn't know it, hundreds of gems were embedded in the walls and floor of his shack. Though he owned all those jewels, because he didn't understand their value, he lived as a pauper – suffering from hunger and thirst, the bitter cold of winter and the terrible heat of summer.
One day a friend of his asked him, "Why are you living like such a pauper? You're not poor. You're a very rich man."
"Are you crazy?" the man replied. "How can you say such a thing?"
"Look around you," his friend said. "Your whole house is filled with jewels – emeralds, diamonds, sapphires, rubies."
At first the man didn't believe what his friend was saying. But after a while he grew curious, and took a small jewel from his walls into town to sell. Unbelievably, the merchant to whom he brought it paid him a very handsome price, and with the money in hand, the man returned to town and bought a new house, taking with him all the jewels he could find. He bought himself new clothes, filled his kitchen with food, engaged servants, and began to live a very comfortable life.
Now let me ask a question. Who is wealthier – the man who lives in an old house surrounded by jewels he doesn't recognize, or someone who understands the value of what he has and lives in total comfort?
It's the same for all of us. As long as we don't recognize our real nature, we suffer. When we recognize our nature, we become free from suffering. Whether you recognize it or not, though, its qualities remain unchanged. But when you begin to recognize it in yourself, you change, and the quality of your life changes as well.
Things you never dreamed possible begin to happen."
Sending love,
Jill (I couldn't decide which quote to use so it's bonus week)
p.s. "What is the secret of finding the Treasure? There isn't one. The Treasure is everywhere. It is offered to us at every moment." ~ Pope Francis
p.s.s. "Hide things everywhere. Forget about them. Find them randomly and feel surprised like a pirate finding buried treasure. Avoid scurvy. Love more."
~ Jarad Kintz
Side Note: (March 28, 2016)
Volunteer Coordinator Position available
This position is a pivitol role at our Center. The following is a list of what is expected and required. How you make that work is up to YOU. You can gather 1 time support or get as many assistants as you need. How you meet the goals and objectives is your choice and you will have the complete support of the Center Manager. If you are self-motivated and enjoy a position with autonomy, give me a call to discuss how this vital role will be perfect for you!
Goal: Recruit for all volunteer roles at the Center while serving as a joyful motivator.
Objectives for Role:
1. Recruiting: Advertise and screen to fill 150+ volunteer positions
2. Training: Inform, lead and offer assistance to volunteers
3. Management: Support, supervise, schedule, communicate, evaluate, document and appreciate.
Roles and Responsibilities:
Monthly attendance at Management Team Meetings

Work in coordination with Center Manager

Uphold FPMT ethics policy
Qualifications:
Regular attendance at Center (most Sunday's and occasional other events)

Have been involved with the Center for at least one year

Current Center Member in good standing

Respect for the teaching of the Buddha and Lama Zopa Rinpoche's Vision

A strong desire to work harmoniously with others in accordance with the FPMT Ethical Policies

Proven track record of dependability

High organizational skills

Enjoy working with people in all aspects of the Center
Please contact Jill Marie at centermanager@kadampa-center.org
This is a volunteer unpaid position
Side Note: (March 21, 2016)
Everybody feeling the love after our whirlwind tour de force of a visit with Venerable Robina? For some of us her teachings were a simple reminder of how to lead a happy life, for others who have never met her, her teachings were an simple introduction of how to lead a happy life. Either way, Venerable Robina teaches with love, sincerity and practical advice laid out clearly for us all.
She drew large crowds each night Monday – Friday and during the weekend for the workshop. Many feel a strong karmic connection to Venerable Robina and love her style with clear delineation of the Dharma. There is a huge 'take-home' for us all whether you came for one or all the teachings. Let's continue to discuss, meditate on and take-in every morsel throughout the weeks to come.
I hope each and every one of you who attended the teachings or streamed in can put Venerable Robina's sound advice to good use and that all beings everywhere benefit from our collected effort.
Sending love,
Jill
p.s. "You are the creator of yourself honey." ~ Venerable Robina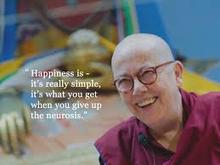 Side Note: (March 14, 2016)
Exciting news to report (if you didn't hear it Sunday)…Welcome Christy Batts as our new Family Program Coordinator!! Donna Seese and I sat down with Christy on Wednesday and had a deep, wide-ranging discussion about the plans and goals for the Family Program at our Center. I'm happy to report we are all in for a treat to have Christy take the helm for the newly formulated Family Program.
This is an unpaid position and only those that came before Christy: Susan Potter, Kevin Shanahan, Valerie Jones, Denise Flora and Erin Sloan, will know the amount of time and effort involved in making the program run smoothly.
Erin Sloan will stay on as Sunday Education Facilitator through May as she segues into one of the two curriculum writer positions. At that time, Christy will hopefully have identified the new SEF so she can spend her time developing the interrelationships between families and how they plug-in to our existing program.
Join me in welcoming Christy as a leader in our community serving the needs of the children, parents, volunteers and our Center at large while fulfilling the wishes of Geshe-la and our teachers.
Sending love,
Jill
p.s. "If your actions inspire other to dream more, learn more, do more and become more, you are a leader."
Side Note: (March 7, 2016)
One of my favorite sayings since I began practicing is, "Everything begins on the tip of a wish." ~ Lama Zopa Rinpoche. I remember a DB class, when the teacher said, "You can't get to DC unless you actually have the thought of wanting to go… you have to wish for it."
We sent you a wish list during the annual appeal and it was exciting when KAPOW! Items started showing up at the Center. Sometimes we forget we have to ask for what we wish for.
To make it easy for you, there is now a link to the wish list on the website for you whenever you have a hankering to offer something or to add to your shopping list. Thank you ahead of time. I look forward to more KAPOWS ☺
Sending love,
Jill
p.s. "Cinderella never asked for a prince. She asked for a night off and a dress." ~ Kiera Cass
Side Note: (Feb 29, 2016)
If you stayed Sunday after the Teachings for the panel discussion, "Should I go? What to expect," for the Light of the Path retreat, you heard a few of us talk from the heart about what retreat was like. To answer the question asked in the title….YES!! From the bottom of my heart I urge you to go to the retreat in any way possible. A weekend, a week, 2 weeks, whatever works, make it happen.
In September of 2009, only 1 year after I started attending The Kadampa Center, I attended my first long retreat. It was a huge decision for me, 2 weeks? Wow, that's a big commitment from a self-employed, single mom who was in between jobs. I didn't even have gas money to get home, yet it all worked out. Boy did it work out!
I now have attended all 3 retreats for 2 weeks each time and I know it's the best decision I've ever made. Even thinking about the moment when Rinpoche walks into the large gompa with Geshe-la leading the procession brings tears to my eyes.
The mere opportunity to spend time with our dearest Rinpoche, a high Lama and a realized being, is an opportunity of the rarest cause. YOU have created the causes and conditions for this LOP retreat to be at your doorstep…jump through the door!
If you want to read about the first year's retreat, it's a published book called "Bodhisattva Attitude" from LYWA. The first line…
"It seems that many old minds have come back, and however our lives have been up to now, that is extremely worthwhile."
Sending love,
Jill
p.s. "I'm trying to free your mind, Neo, but I can only show you the door. You're the one that has to walk through it." ~ Morpheus
Side Note: (Feb 22, 2016)
Once in awhile a sweet surprise will move your heart and remind you of the kindnesses of others. I experienced one last week when I walked into a tiny pharmacy located within the building where my doctor was. I assumed prices would be higher, yet I was in a hurry to get back to my fab job. While I compared the med I needed, "$8.50, $11.25, $16.75 and …$1.00," an assistant walked around and asked if she could help. From my crouched position, I smiled and simply pointed to the $1.00 label with a quizzical look. She grinned and informed me that the pharmacist takes the time to look for deals on the meds people frequently use and he sells them for $1.00. I could tell by the look on her face and happy demeanor, that she was proud to work for such a boss, (inferential cognizing learned from Basic Program class) and it transferred in her sweet way with customers.
There are kindnesses happening all around us, and this boss shows how to put heart before profit. Here's hoping we can be the ones making a difference today. We also have to have the karma to be at the right place at the right time to get the deal:-)
Sending love,
Jill
p.s. "Change will not come if we wait for some other person or some other time. We are the ones we've been waiting for. We are the change that we seek." ~ Barack Obama
Side Note: (Feb 15, 2016)
It was 1979, when my best friend and I graduated from high school. She left right away for summer school, where we planned to attend university, to begin her education in theater studies. I had my first solo adventure when I visited her a month later. It was thrilling to watch her be part of the production Pippin, and help out where I could. What I remember most is the sense of being 'behind the scenes,' and belonging to that shifted perspective.
While it takes a lot of effort from many people to make a play gratifying, it's not only about the audience enjoying the performance. What goes on 'behind the scenes' in learning lines and getting the dance steps right, is necessary, yet where the joy resides for the actors is the comradery, teamwork and satisfaction of bringing an idea to life for others.
Besides our regularly scheduled teachings, classes and practices we will have visiting teachers, retreats big and small and special events. We encourage you to come 'peak behind the curtain' and get involved. Come early to a teaching, class or event and stay a few minutes after to ask "Can I help?" You can also sign on to Volunteer Spot where we list many ways to serve…you may just find your own 'corner of the sky.'
Sending love,
Jill
p.s. "We've got magic to do just for you, we've got miracle plays to play, we've got parts to perform, hearts to warm…as we go along our way."
Side Note: (Feb 8, 2016)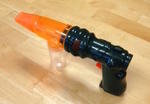 The other day Elise brought something fun to the Center for us to use that I thought I'd share with y'all…a bug vacuum! This tool seems like a great way not to harm sentient beings and it's fun. After you collect the critter, say a mantra and blow on it, you can close the lid and look at it through a magnifying glass. FPMT website quote on insects:
"Ultimately, when insects are invading one's house it is due to past karma, so another method Rinpoche recommends is saving the insects and taking them around holy objects. You can set up a table in the room with statues and books, take the insects around that and then liberate them outside. Each time you do this, so much merit is created, and this is what has the power to change the karma."
Here's the link for many options to order your own bug vacuum and this is a link to the FPMT foundation store's version of a bug catcher designed by Lama Zopa Rinpoche.
"Use these animal liberation tools to catch small insects and remove them compassionately from your house…covered with mantras that benefit bugs and quotes which benefit humans, these unique tools will not be found in any other store."
May all your home's 'guests' have a fantastic rebirth!
Sending love,
Jill
p.s. "The difference between the right word and the almost right word is the difference between lightning and a lightning bug." ~ Mark Twain
Side Note: (Feb 1, 2016)
The deadline for the Family Program Coordinator (FPC) has been extended to February 29th. Thisposition is vital to the health of our Center, so here is some more detailed information about this role in hopes of nudging interested parties along.
As the FPC, you will be in a leadership role and attend regular Management Team meetings. The vision is that you will be managing family offerings from a broad perspective along with several facilitators
supporting specific areas, such as the Sunday morning program and Family Dharma Camp. You will support the facilitators, appoint volunteers as facilitators, and fill in when roles are vacant and tasks need to be complete.
As the Center Manager, I will be here to support you as much or as little as you need. I will be happy to plan with you, attend meetings where you need my input or just be a sounding board.
When facilitators are in place, you will be able to coordinate additional family-oriented programming. This promises to be an exciting part of the position as families 'plug-in' in multiple ways! We want to continue to offer our families unique social events and engagement with visiting teachers, etc. We hope the new FPC will bring additional ideas to the table.
Click here for the full job description.
If you have any questions or just want to talk privately over how this exciting role could be a good fit for you, please feel free to call me at 919.859.3433 or email me at centermanager@kadampa-center.org.
I look forward to meeting with the next Family Program Coordinator!
Sending love,
Jill
p.s. "I want my children to have all the things I couldn't afford. Then I want to move in with them." ~ Phyllis Diller
Side Note: (Jan 25, 2016)
We've been talking a lot about self-compassion, self-forgiveness and contentment on Sunday mornings. We all seem to be enjoying the wisdom of Geshe-la and the sharing of each other's experiences. Here's a charming story that made me smile…
The Secret of Happiness
Nasrudin is known as much for his wisdom as his foolishness, and many are those who have sought out his teaching.
One devotee tracked him down for many years before finding him in the marketplace sitting atop a pile of banana peels – no one knows why.
"Oh great sage, Nasrudin," said the eager student. "I must ask you a very important question, the answer to which we all seek: What is the secret to attaining happiness?"
Nasrudin thought for a time, then responded. "The secret of happiness is good judgment."
"Ah," said the student. "But how do we attain good judgment?"
"From experience," answered Nasrudin.
"Yes," said the student. "But how do we attain experience?"
"Bad judgment."
Sending love,
Jill
p.s. "You can't see the full picture when you are in the frame." ~Les Brown
Side Note: (Jan 18, 2016)
Since the last Side note where I mentioned that folks drop by to help out in various ways, I bet you have been chomping at the bit to find out what ways you can help. You are in luck! We posted some ideas on the bulletin board and here's a link to check it out. There are some items that are easy peasy and some that are more physical. Whatever your energy level is, we'll find something that fits for you. Working for the Center is an amazing way to plug into our community. We're happy to help you find a way to be useful ☺
Note from Lama Zopa Rinpoche encouraging a volunteer at a Center:
"Thank you very much for the great service you have been doing. This organization is to benefit not only human beings/sentient beings in this world, but also sentient beings equaling the limitless sky, who are obscured and suffering. This is the best method: providing service for the teachings of the buddhadharma, the complete and stainless path to enlightenment — the peerless happiness. What greater life is there than this? Please continue."
With much Love and Prayers,
Zopa
Sending love,
Jill
p.s. "It is our responsibility to catapult each other into greatness." ~ Sister Louisa via Hollis Gillespie
Side Note: (Jan 11, 2016)
Geshe-la teaches us that this Center is our Center. It's not owned by him or any one person, it is for all of us to enjoy. It makes us so happy when folks drop by to either meditate, circumambulate, study, shop or help out in various ways. We also are getting a small, fun crowd for Lunch Bunch on Fridays.
The other day a founding member came by and shared photo albums and fun stories with me about the history of our Center. If you want to see the pictures, they are on a shelf to the left of the donation basket in the library. It was wonderful to see our peeps 25 years ago!
Spend some time at your Dharma Center and add to the tapestry of our history. We love sharing the space and the day with you.
Sending love,
Jill
p.s. "The miracle is this - the more we share, the more we have." ~ Leonard Nimoy
Side Note: (Jan 4, 2016)
Welcome to 2016! I doubt any of us are over the strangeness of being closer to 2020 then 2010. Due to a certain teenager in my life, there are a lot of ch-ch-ch-ch-changes…not so much adolescence, but David Bowie ☺
We have had many changes ourselves last year: New Center Manager, New Co-SPCs and New Office Admin.
Impermanence at work for 2016: Together, let's celebrate the transition of Erin Sloan stepping down from her tireless 5 years of service as Children and Youth Program Coordinator. Her passion in this role has served multitudes of families who have passed through the program. Join me in thanking her for her joyful effort.
I'm happy to announce that we now have not one, but two Hospitality leads! Welcome Vivian Magarino-Gomez and Jenn Sanford Johnson. They will brighten the 'after teachings Sunday time' with snacks and warm shared camaraderie among other ideas still in the works.
Upcoming Opportunities:
• Family Program Coordinator (look for post coming soon!)
Oversee Sunday Education Facilitator, organize volunteer opportunities, coordinate and organize activities and events for families.
• IT Coordinator
• Communication Coordinator
Sending love
Jill
p.s. "Time may change me, but I can't trace time." ~ David Bowie
Side Note: (Dec 28, 2015)
The waiting time: The amorphous space between the New Year ahead and the ending of the events, thoughts and actions of the year behind us. It is only one moment in time that marks this change into next year yet what a difference a moment makes. In whatever way you mark the "… 5,4,3,2,1", may it carry the essence of how you want to be in this New Year.
We have a bright year ahead of us at The Kadampa Center and I look forward to all the moments with each of you in 2016.
HAPPY NEW YEAR!
Sending love,
Jill
p.s. "If you peel back the layers in your life – the frenzy, the noise – stillness is waiting. That stillness is you." ~ Oprah
Side Note: (Dec 21, 2015)
The weather outside isn't very frightful and it's not cold enough for a fire to be delightful, but as long as we love each other so, let it go, let it go, let it BE!
We talk frequently about "let it go, and forgive yourself," yet I often hear folks, myself included, have a tough time doing that. After purification practice and apologizing, many still feel like 'that thing' we did 5 years ago looms over us. In one of the breakout discussion groups one Sunday that Geshe-la initiated about self-forgiveness, my small group gave me a new way to see things…maybe letting it go, is also about letting it be. The action is finished, we learned something and we have determined we don't want to do it again and that's cause for rejoicing! Yes, it was whispered words of wisdom; sweet and simple.
Sending love
Jill
p.s. "It's all really very simple. You don't have to choose between being kind to yourself and others. It's one and the same." ~ Piero Ferrucci
Side Note: (Dec 14, 2015)
Every year around Lama Tsongkhapa day, we turn in our Merit Box donations. "The International Merit Box Project was created in order to cultivate generosity as part of a daily practice, as well as foster an international spirit of harmony and cohesion amongst the FPMT community.
To date, almost US $1,000,000 in Merit Box offerings have been disbursed through grants to eligible Dharma projects and initiatives."
That's truly amazing! You can read more about The International Merit Box Project here.
Thank you ahead of time for your kind donations; it's a simple practice with a lot of Bang Zoom when we all give together!
You may turn your donations into the Center by putting your coins in a zip lock bag and placing in the box by the Concierge desk in the lobby. That way you can keep your Merit Box at home, ready to use again!
Sending love
Jill
p.s. "Never doubt that a small group of thoughtful, committed citizens can change the world; indeed, it's the only thing that ever has." ~ Margret Mead
Side Note: (Dec 7, 2015)
When I first started attending regular classes at The Kadampa Center back in 2008, one of my favorite times was the discussion group we forged after DB. I loved sharing our views and working out questions together, yet hanging with my Dharma buds in and of itself was a treat. (Sometimes we want to get together because we actually like each other:-) These lasting friendships have helped me grow in many ways then and now as the years go by.
Let's awaken this idea with a new twist:
Introducing "Lunch Bunch!" Starting this week and every Friday from 12:00-1:00, come to the Center (BYOL, bring your own lunch) and hang out around the big conference table.
Connections made now will support you in and your practice in the future!
Sending love
Jill
p.s. "Time is an illusion, lunch time doubly so." ~ Douglas Adams
Side Note: (Nov 30, 2015)
Here's hoping everyone had a great relaxing weekend and didn't have to wear stretch pants to work today;-)
I don't have any particular inspiring story to tell or a funny antidote to make you laugh. Mostly today I simply want you all to know how happy I am to be in this family with you. I'm totally filled with gratefulness…and mashed potatoes, just loved the Thanksgiving mashed potatoes.
Sending love
Jill
p.s. "You're the gravy to my mashed potatoes."
Side Note: (Nov 23, 2015)
Sharing my morning…
Sitting at my desk by the window working away communicating, and planning with His Holiness, my constant, who has my back. New folks, who were interested in our Center, had a tour and ended up knowing a member here. I snuck over and texted the member and got to deliver a big hug to our guest. They 'exited through the gift shop' and left with some Tara love.
Later, a young lady who was sent to our center via a member, came in for a look-se and had some lovely gompa time with a nice cup of tea. Now she is folding Annual Appeal items while chatting away with a volunteer whose been here all morning.
Isn't this delightful? I have a million things to do… and they will get done while surrounded by happiness.
Come drop in sometime, you know you'll at least get a cup of tea :-)
BTW, our faithful morning meditators (there are 5 now!) will be taking a holiday break for Thanksgiving on Thursday and Friday.
Sending love,
Jill
p.s. "You know what the issue is with this world? Everyone wants a magical solution to their problem, and everyone refuses to believe in magic." ~ Alice in Wonderland
Side Note: (Nov 16, 2015)
Amanda and I had a giggle when looking over some paperwork this week when I said, "This isn't anything…it's everything!" We both felt that summed up some kind of collective state of mind.
We are all in a collective lull before the storm of "this time" of year. The appeal is looming, the Mandala was recently brushed away and it seems the 4th of July just passed while Thanksgiving and Christmas are right around the corner. While time seems to be slippin, slippin, slippin into the future, we're going to rejoice in the golden orb in the sky and enjoy each moment working for you at the Center.
Sending love,
Jill
p.s. "'I want to remain 16 forever'. No matter how much you wish for things to stay the same, you're asking the impossible.
From the Buddhist point of view, you're dreaming..." - Lama Yeshe
Letter from your Center Manager (Nov 9, 2015)
Dear KC family,
I'm very happy to be back in my "office" working on processes and communications between and for you guys that make up my day. The IGTeam is finishing up the 2016 Annual Appeal that will soon be appearing in your mailbox. We are getting our mini presentations under way that will start November 15 on Sunday mornings. I know, I know you can hardly wait!
Donna, Tony and I just returned from Portland last Monday and just to be clear, while I loved the city, I promise I'm not moving there, my home is here with y'all. The connection to the FPMT international office was special for me. All these years of studying, mediating and serving our Center seem richer in new found ways. We are not alone: There is so much joy and love to be found with all those who serve His Holiness, Lama Zopa Rinpoche and Lama Yeshe. It truly is a rewarding path. This Foundation training was specifically on Service, here's a quote I think we all loved.
"I slept and dreamt that life is joy
I work and saw that life is service
I served and saw that service is joy."
Service to each one of you is like service to our Guru. We hear this often yet do we take it to heart? If offering just 1 glass of water has amazing merit, imagine how happy I am to offer you a hot chai latte! Service to each other, our teachers, our Sangha is literally a way to actualize the path. That sentence alone is something wonderful to ponder… and there are so many ways to speed up your enlightenment as we begin to post all the new volunteer roles needed! Wink wink.
I noticed there is already a picture of The Four Harmonious Friends on the bulletin board by the office. We read and discussed this sweet and profound story in our training. It is a fabulous reminder of how fortunate we are to have each other and this Center to share the Dharma, our practice and our lives. Give it a look-see.
We also learned about the 4 means of Drawing Sentient Beings: Giving (resources, Dharma, protection and loving kindness), Speaking kind words, Teaching according to the level, and Practicing what you teach. So let's see…if you were to walk around the stupa holding an umbrella for a friend while showing someone how to do 9-round breathing that you learned from Geshe-la and then offer them a cup of tea and listen to their needs… Well you might go straight to a pure land without even passing GO. It's worth a shot.
Sending mounds of love,
Jill
Side Note: (Nov 2, 2015)
Donna, Tony (the new Co-SPCs) and myself will all be traveling back from Portland, OR from the FPMT Foundation Service Seminar at Maitripa College when you get this note. While I'm looking forward to the training and a trip to a city and state which I've never been, I have to admit, I'm gonna miss y'all! We'll bring back lots of inspiration to learn how to serve you and our Spiritual Director, Lama Zopa Rinpoche in new and fulfilling ways…So be ready!
There will still be meditation Monday morning from 8-8:45 ish. Amanda will be in the office Monday to assist you, should you want to stop by to meditate or use the library. Feel free to call ahead to check times. I'll be back in my little office by the window Tuesday morning. Hope you all had a great weekend.
Can't wait till you to see the changes in the gompa….
Sending love,
Jill
p.s. "Travel far enough, you meet yourself." David Mitchell, Cloud Atlas
Side Note: (Oct 26, 2015)
The café is back! You'll notice a bright cheery revamp of the café area with an abundant rack of snacks and beverages. We also have a new Keurig machine thanks to Elise Strevel. So grab a friend, make yourselves chai lattes, score a couple of Kashi bars and have a chat after the teachings. A great way to make a connection and be generous…it's like feeding 2 birds with one seed! I made the first offer in-kind of goodies and now I'm asking you to bring in your offers in-kind of pre-packaged goodies or Keurig cups. And yes, I turned in my "in-kind" donation slip to the office ☺ (We are not accepting home-baked goods at this time.)
Sending love,
Jill
p.s. "All you need is love. But a little chocolate now and then doesn't hurt." - Charles Schulz
Side Note: (Oct 19, 2015)
Another cool idea from your office gals at KC...
On our website, in the bulletin and on "This Week" you've noticed we list 'merit makers.' This is our way to acknowledge the vast amount of efforts from our volunteers that rock the casbah. Every act of love whether tiny or huge you do for the Center is like offering service directly to one's guru. We want to include YOU in our search for these amazing merit makers. If you catch some little bird helping to sew Cinderella's dress email us here. We'll be telling virtuous tales on each other! Tee hee.
Sending love,
Jill
p.s. "I have to tell you a secret that will see you through all the trials that life can offer. Have courage and be kind." ~ Ella's mother
Side Note: (Oct 12, 2015)
Want to be a twinkle light fairy godmother/father? The beautiful twinkle lights that adorn our center in the Gompa and in the common areas, not only make everything look festive yet serve as continual light offerings. Would you like to offer financial support to have our lights continue to glow?
5 Opportunities, affordable and simple:
Offering of funds for 3 sets of colored lights for the Gompa at $25 each
Offering of funds for 6 sets of white lights for the common areas at $10 each
Simply donate here and say what you are giving for under the "public comment."
One more way to make our Center sparkle and shine!
Thank you ahead of time for your generous donation.
Sending love,
Jill
p.s. "Ring the bells that still can ring. Forget your perfect offering. There is a crack in everything. That's how the light gets in." ~Leonard Cohen
Side Note: (Oct 5,2015)
The 2016 Annual Appeal is kicking into action! One new aspect is a check box for "Service" and "In-Kind" donations as well as for a Monetary Donations. This creates a rather urgent need to fill one of the many volunteer positions available at the Center: Volunteer Coordinator. I haven't begun posting for open volunteer positions yet (been busy finding envelopes and staples) so I need your help. This position is the 'captain' of all the volunteer positions at the Center, steering a full ship of happy workers toward smooth flowing waters. Will you be our Captain? Look over the roles and responsibilities to see if your heart is nudged. Contact me if you have any questions or want to chat about this vital role.
Sending love,
Jill
p.s. "You don't need to obsess over the attainment of future realizations. As long as you act in the present with as much understanding as you possibly can, you'll realize everlasting peace in no time at all." ~ Lama Zopa Rinpoche