Family Dharma Camp 2017
Welcome to the 4th Annual Family Dharma Camp 2017!
Labor Day Weekend Sept. 1-4, 2017
Friday evening to Monday morning
This year Family Camp coincides with Light of the Path Retreat at Blue Ridge Assembly in Black Mtn, NC
With guidance from Geshe Gelek, Family Dharma Camp 2017 will be the first in a four-year series:
Practicing the Six Perfections with a Bodhichitta Attitude.
Children will learn how to develop Loving Kindness and Compassion throught the perfections of Generosity and Ethical Discipline.
We'll learn together how to create pure motivation to give to others both teachings, love, protection and objects as well as explore
what it is to protect our body, speech and mind in order to benefit others.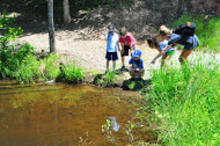 Camp Activities Include:
Exploring nature
Hanging out with friends
Arts & Crafts, Games and Sports
Talent Show
Cool college counselors
Campfire & S'mores
Focused Programming for ages 5-12
Options for children under 5 yrs of age
Jr. Counselor Opportunities for ages 13+
2.5 full days, 3 nights in the Mountains!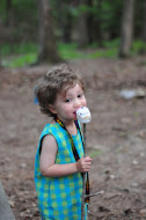 Dharma-Related Activities Include:
All Light of the Path Retreat Teachings open to parents: Take Teachings from FPMT's Spiritual Director Lama Zopa Rinpoche!
Family time during meals and evenings
Children will:
- Learn prayers and mantras
- Understand the meaning of Bodhicitta
- Receive Teachings based on Shantideva's Text
Animal Liberation and Tibetan rituals
Advice and encouragment from Sangha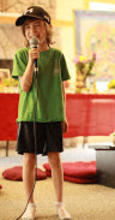 Camp Fees include room/board plus eight delicious vegetarian meals:
12-adult = $178
3-12 = $129
0-3 = Free!
(At least one parent/guardian must attend with children under age 18)
Financial Aid:
Offered in the form of partial scholarships (Those who sincerely need financial assistance are encouraged to apply within the registration form.)
As with all spiritual programming at the Kadampa Center, to ensure that it is accessible to everyone, Dharma Teachings and activities are offered freely and supported through donations.
Location:
Family Dharma Camp will be held at Blue Ridge Assembly, located in the majestic mountains just east of Asheville, NC. Dotted with cascading streams and diverse forests, it is 4 hrs form RDU and oly 2 miles from CLT.
Individuals must make their own travel arrangements.
Blue Ridge offers comfortable hotel like accommodations for each family.
Dining will meet dietary needs.
Meeting spaces inside and out available.
Secluded setting ideal for spiritual renewal and meditation.
Communication:
Contact Christy Batts, Camp Facilitator at familycamp@kadampa-center.org
Look for registration to open soon!