Lama Thubten Zopa Rinpoche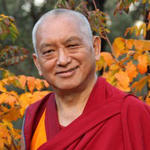 Lama Thubten Zopa Rinpoche, FPMT's Spiritual Director, was the reincarnation of the Sherpa Nyingma yogi Kunsang Yeshe, the Lawudo Lama. Rinpoche was born in 1946 in Thami, not far from the cave Lawudo, in the Mount Everest region of Nepal, where his predecessor meditated for the last twenty years of his life. He began teaching courses on Buddhism to Westerners in 1965, along with Lama Yeshe. They founded several centers that eventually became the building blocks of the FPMT. As of December 2001, there are 132 FPMT centers and projects worldwide.
Find out more about Lama Zopa Rinpoche.