Lama Zopa Rinpoche - Eight Verses of Thought Transformation
Primary tabs
10:00 am Saturday, May 3, 2014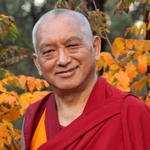 Don't miss this rare and precious opportunity - a one-day visit from our Teacher and Spiritual Director Kyabje Lama Zopa Rinpoche. On his way to our Light of the Path Retreat, Rinpoche agreed to spend the day at Kadampa Center to teach the fundamental mind-training text Eight Verses for Thought Transformation. Known for his unpredictable teaching style, Lama Zopa Rinpoche often will change the subject to better suit the needs of the students, and sometimes teach much longer than planned! Rinpoche only recently started touring again after manifesting a stroke, so it has been several years since his last visit, but as an FPMT center our vision, practices, and programs are all under his guidance. Just meeting Rinpoche is extremely special, much less directly hearing his unique humor, insight, and compassion!
Students are encouraged to bring katas (or buy one in the bookstore) and line up to welcome Rinpoche as he arrives, and there will be an opportunity to present offerings at the end of the day. The teachings will be transcribed live during the event in case anyone has difficulty understanding his English with an accent. Copies of the text will be handed out at the event. There is a vegetarian potluck planned for 12:00-2:00pm - please bring a main or side dish, dessert, or beverages. Hot dishes need to come in a crock pot, and it's helpful to label ingerdients for those with dietary issues.
Sponsors
You can help make this visit possible - click here for information about sponsoring Rinpoche's visit!
Volunteers
You can also help by volunteering! Please sign up on Volunteer Spot. We have lots of volunteer opportunities listed on the Volunteer Spot calendar on April 26th to join us for a work day or do some prep work at home. There will also be a lot happening at the center the week before the visit. For questions please contact program@kadampa-center.org.
A Short Biography
(From Lama Yeshe Wisdom Archive)
Rinpoche was born in Thami, Nepal, in 1946. At the age of three he was recognized as the reincarnation of Sherpa Nyingma yogi, Kunsang Yeshe, the Lawudo Lama. Rinpoche's Thami home was not far from the Lawudo cave, in the Mount Everest region of Nepal, where his predecessor meditated for the last twenty years of his life. Rinpoche's own description of his early years may be found in his book, The Door to Satisfaction (Wisdom Publications). At the age of ten, Rinpoche went to Tibet and studied and meditated at Domo Geshe Rinpoche's monastery near Pagri, until the Chinese occupation of Tibet in 1959 forced him to forsake Tibet for the safety of Bhutan.
Rinpoche then went to the Tibetan refugee camp at Buxa Duar, West Bengal, India, where he met Lama Yeshe, who became his closest teacher. The Lamas went to Nepal in 1967, and over the next few years built Kopan and Lawudo Monasteries. In 1971 Lama Zopa Rinpoche gave the first of his famous annual lam-rim retreat courses, which continue at Kopan to this day.
In 1974, with Lama Yeshe, Rinpoche began traveling the world to teach and establish centers of Dharma. When Lama Yeshe passed away in 1984, Rinpoche took over as spiritual director of the Foundation for the Preservation of the Mahayana Tradition (FPMT), which has continued to flourish under his peerless leadership. More details of Rinpoche's life and work may be found on the FPMT Web site.
Teachings by Rinpoche
Thousands of pages of Rinpoche's teachings have been made available as transcripts, books and audio by the Lama Yeshe Wisdom Archive, and most are freely available on the Archive's website. Rinpoche's other published teachings include Wisdom Energy (with Lama Yeshe), Transforming Problems, Dear Lama Zopa and and many prayer and practice booklets available in Kadampa Center's bookstore.
Sponsorship Opportunities
Kadampa Center has a tradition of offering the teachings solely on a donation basis so they are available to everyone. In order to support the hosting of visiting teachers without ticket fees, various sponsorship opportunities are available. Each sponsor can elect to prepare a personal dedication to be read aloud and posted at the center during the teacher's visit, and will have reserved seating. Part of the monies received are offered to the teacher at the end of the event on behalf of the entire center community.
Any of the options may have multiple sponsors. Choose from one of the options in the drop-down below, and you will be taken through our online process. Or, you may email program@kadampa-center.org to offer your precious sponsorship! (If you prefer to donate at a different level, we are grateful for all support. Donations can be made online, in the donation boxes in the center lobby, or in our bookstore).
$1000 Travel sponsorship for Rinpoche and entourage
$500 Sponsorship for the full day of teachings
$250 Half sponsorship of the day of teachings
$125 Kind Giving sponsorship for flowers, offerings, food, cleaning, staff, and other expenses of the visit