His Holiness the 14th Dalai Lama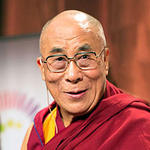 His Holiness the 14th Dalai Lama, Tenzin Gyatso, is the spiritual leader of Tibet. He is recognized throughout the world as a leading proponent of human rights and world peace. In 1989, he was awarded the Nobel Peace Prize, and accepted it on behalf of the oppressed everywhere, and all those who struggle for freedom. His Holiness follows the life of a Buddhist monk, often saying "I am just a simple Buddhist monk - no more, nor less." He is an outstanding example of how to live a simple, happy, spiritual life in these complicated, stressful times.
Find out more about His Holiness and the people of Tibet.