Cherie and Jim Sutorus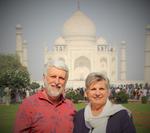 Jim and Cherie Sutorus have been a team in life and business for more than 45 years. Since it was a book by H.H the Dalai Lama that first led them to find Kadampa Center in 2000, it follows that in retirement they are drawn to manage the centers bookstore.
Finding the dharma has opened up many opportunities for them to travel. They have visited many holy sites and FPMT centers in Mongolia, India, Columbia, Argentina, Mexico and Nepal.