Covid-19 letter from BOD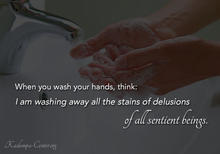 Dear Kadampa Center Community,
There is so much information, misinformation, disinformation... and fear... regarding Covid-19.
"We have an opportunity to learn a great deal about health hygiene and limiting the spread of innumerable transmissible diseases in our society. Let's meet this challenge together in the best spirit of compassion for others, patience, and above all, an unfailing effort to seek truth, facts and knowledge as opposed to conjecture, speculation and catastrophizing."
Please remember to practice effective hygiene to prevent the spread of respiratory diseases. These common sense practices will help protect the health of our community, especially those most vulnerable (children, elders and those with compromised immune systems):
If possible, stay home when sick.
Cover coughs and sneezes with a tissue or use the inside of your elbow.
Avoid touching your T Zone (eyes, nose, and mouth) specifically and your face generally.
Wash hands often.
The above practices will help keep you and your loved ones healthy at home, school, work or the Kadampa Center.
As a reminder, we
stream
the teachings in case you cannot attend in person. We are monitoring the situation and will make changes to current policies as needed.
"Facts not fear. Clean hands. Open hearts."
Love from,
The Board of Directors
(Quotes/excerpts from Doctor Abdu Sharkawy of the University of Toronto's Division of Infectious Disease, Mar 5)