Daniel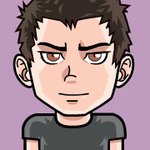 I'm 25, and I've been studying Buddhism off and on for about five years. I came from a rough background with a lot of pain, misery and hurt. My lifestyle I was living eventually led me to prison. I started meditating in the county jail with another man who was Buddhist. He taught me some and when I got to the first state facility I got serious into practice.
When I was transferred to another facility, I soon started going to the meditation class that volunteers from the Kadampa Center facilitated. When I first came to class I was welcomed by the volunteers with compassion and respect. They treated me like a human - not just a prisoner.
We did a book study and meditation. I looked forward to coming to class every week. It was an oasis of serenity in such a chaotic environment as prison. I learned a lot from the group. When I transferred to another prison, I wrote the Kadampa Center, but I really didn't expect to hear anything back. To my surprise I received a letter back within a week. I cried because I knew then these people really have a passion for compassion to people in prison. Through the pen pal program I can be myself and talk about anything. My penpal is such a sweetheart - a truly caring person. She is honest and open and willing to help any way she can, and that's cool.
The pen pal program is good because I can still be connected to the Kadampa Center even though they don't have a class at the prison I'm at right now.
In closing, for those of you considering volunteering through the Kadampa Center Prison Project - we desperately need it and are greatly appreciative of all the Kadampa Center does for us. Please do trust me - I think I speak for the majority of us behind the wire.