Love Notes Project
Have you been searching for an opportunity ...
... to practice compassion in action? Someone is eager and in need of your message of hope, caring and compassion.
The Love Notes Project is a way to meet that need, and to give and receive the gift of Love!
We are pleased to work with Meals on Wheels to deliver Love Notes with daily meals, as a way to nourish recipient spirits, along with their bodies. It's easy to be involved!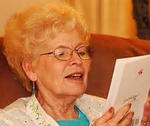 PROJECT INTENTION: To write a note that brightens someone's day. As your act of compassion, direct positive thoughts and prayers to each recipient through a simple expression of hope and love.
This is not a competition to write the most notes. Rather, it's an act of compassion, an opportunity to connect your heart and prayers with another sentient being. Whether you write a single note – or a hundred of them – each will be shared with someone who may benefit from your nourishing message.
10 cards
10 minutes
10 hearts touched
————-
INSTRUCTIONS:
Packets of 10 notes and instructions are available at Kadampa Center for you to pick up. See the display under the "Outreach" section of the Communications Wall, across from the shoe rack. (If you would like to participate, and are homebound, please contact outreach@kadampa-center.org and write "Love Notes" in the subject line).
With a prayer of intention in your heart, take a moment to write a message in each note that will brighten someone's day. Children are welcome to participate with adult guidance.
Sample messages are shown below, and are also included in each packet.
When your notes are complete, place them back in the packet and return them to the Love Notes Project display at the Kadampa Center. Completed notes will be provided to Meals on Wheels to deliver with meals.
What matters most is to express your love and best wishes in the note and place it in the envelope.
————-
SAMPLE MESSAGES:
Have a beautiful day!
You are loved!
You are wonderful, even if life isn't always.
Thank you for bringing joy, beauty and love to the world!
Your smile is a warm ray of sunshine in the world!
The world is a better place because you are in it!
I'm sending a kiss to you – it's on its way!
A big hug for you!
You are a shining star!
Your love touches many hearts!
Smiles mean the same in any language!
Thank you!