Welcome to the 2019 Annual Appeal
What's Your Color!
Giving Instruction Help
Every single way we give at the Center plays an integral role in maintaining our community where the Dharma thrives. Your gift of generosity, whether as a Service, In-Kind, Circumambulator or Financial supporter, will benefit our community, and more importantly YOU!
We currently have 101 monthly financial supporters that either mail us checks or allow us to draft from their credit card or bank account, others give as they are inspired, one gift at a time while others offer service or In-Kind donations. An additional category this year is to offer Circumambulations around our amazing stupa. By giving in one of these ways, you will help create the conditions for the teachings to be available, the doors open and the lights on for all of us who think of the Kadampa Center as home.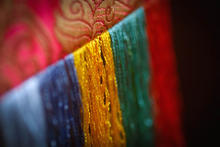 Choose Your Color Today!
2019 Annual Appeal letter:
"It's been a long day
Finally home, you notice a gift on the dining table with your name written in a familiar hand. A pull of the ribbon and a rustling of paper reveal a hint of brilliant color. A lovely hand woven tapestry made for you by your mother. It's artful creation warms your heart knowing each colorful thread, chosen with care, is vital to bring the image to life. A small shift..." Read more
4 Ways to Give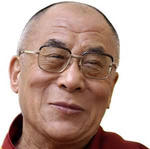 Service Supporter
Service is an indispensable part of our ongoing teachings and programs. Joyful effort keeps our Center thriving as a home for the Dharma. There are a variety of ways in which to serve, with a wide range of time commitments. When you Choose Your Color as a service supporter, together we will find the right fit for you. Whether you offer service casually, weekly or monthly, your gift will not only benefit our teachers and our Center, it will benefit YOU. With 100+ distinct volunteer roles, the vast majority of effort at the Center comes from volunteers like you. One act of service to YOUR Center is like offering service directly to one's Guru, with benefits immeasurable!

In-Kind Supporter
In-kind support is charitable giving of goods and services. Whether one offers meals for volunteer meetings, a new vacuum for the education building, or financial advice to the Treasurer; it's all part of what makes our Center thrive as a home for the Dharma. Everyone has something unique to offer and we invite you to find ways in which to become or continue as an in-kind supporter. When you Choose Your Color by offering In-Kind support to YOURCenter, YOU benefit by creating the cause of generosity towards the Dharma in YOUR future!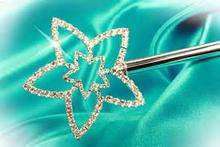 Financial Supporter
If you are haven't signed on to become a monthly supporter, this is YOUR year to join our 101 existing supporters! A strong basis of committed supporters means less time fundraising and more time spent on programming, planning and fun! You may also choose to give a One Time gift of generosity to the Annual Appeal or plan a Legacy Gift and put the Kadampa Center in your estate plan. Which ever way works for you, YOU are appreciated!
Your committed gifts of generosity are fundamental to our operating budget. We ask you consider increasing your pledge, if you are able, as our own expenses have increased. When you Choose Your Color with your consistent gifts of generosity, whether by snail mail, bank or credit card draft, YOU benefit by helping your Center, its teachers and the Dharma to flourish for all OUR future wishes to be fulfilled!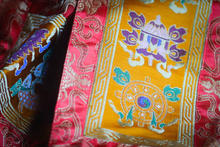 Prostration Supporter
When you Choose Your Color as a Prostration Supporter, you not only benefit yourself, you benefit all sentient beings. "Lama Zopa Rinpoche described the huge merit to be gained from making prostrations to holy objects. "For every pore of your body that touches the ground, the merit is thousands of times more than the sand grains found on the Ganges River. Making prostrations is also an excellent antidote for slicing through our false pride." You may enter your prostration count on this page so we can report our total to Geshe-la at next year's appeal!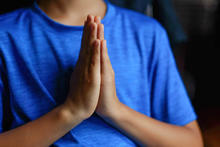 Ways to contribute
New TEXT GIVING! Send KC108 to 73256 and select from the drop down menu:

Sustainer Monthly
Sustainer One Time

At the Center by placing your contribution in one of the donation boxes located throughout the Center

Snail mail checks to: Kadampa Center, 5412 Etta Burke Ct, Raleigh NC 27606

Stocks to donate? (email our Center Manager, Jill Marie)

Legacy Giving as you set up your estate plan (email our Center Manager, Jill Marie)

Giving Instruction Help

To donate one time, or set up an automatic monthly payment see link below.
Your monetary donations to Kadampa Center allow the Center to offer an incredible array of classes in the spiritual program, support our resident teacher, Geshe Gelek, as well as pay the mundane but necessary costs of rent, utilities, supplies, and staff personnel. You may choose to have auto draft checks sent from your bank or set up your recurring transaction on a credit card, a bank draft or you may make a one-time donation all by going to our New Secure On-line Community at the link below.
Donations are tax deductible, as we are a registered 501(c)(3) corporation.