25th Anniversary Gala!
Primary tabs
7:00 pm Saturday, June 10, 2017
Kadampa Center is celebrating its 25th Year
of Sharing the Dharma!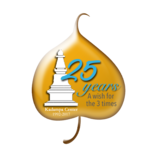 Join us for an evening Gala Celebration

Dress: Evening Attire
Catered hors d'oeuvres and live music
Unveiling of our new logo
Display of the Past, Present and Future

We look forward to seeing new and old members, visitors and guests
for an evening of good food, entertainment and cultivating connections.
We love our children yet adults only please
Parking:
Our parking lot will be reserved for Sangha and handicap access only.
You may park in any of the surrounding parking lots adjacent to our facility as well as Etta Burke Ct.
Overflow parking available at the Right of Way Equipment building directly across the street and on the sides of Soccer World.
Volunteers coming early, staying late and anyone who is comfortable, please park in the overflow lots.
Carpooling would be helpful as well.
The Gala begins at 7 o'clock and at 8 o'clock our resident teacher, Geshe Gelek, and our director, Robbie Watkins will address us all.
Anyone who is not able to attend, feel free to send us your aspirations here for the future of the Center and we will include your wishes in our interactive display!
Plans are well underway and there are still plenty of merit-making
opportunities. Contact our Center Manager, Jill Marie at to learn more.