Memorials and Honoraria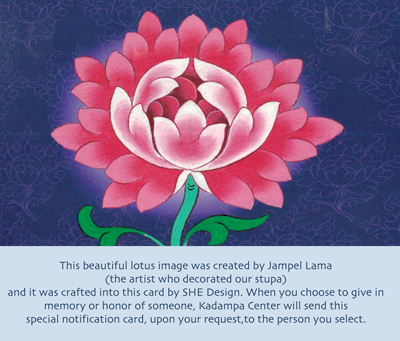 Memorable people, meaningful days
Kadampa Center offers an easy way to make gifts to the Center in honor or in memory of someone.
Here are some examples:
Your family and friends can be invited to contribute to the Center in your name in lieu of birthday or Christmas presents.
Honor a special anniversary date in memory of a loved one who has passed.
Give on behalf of someone who is having a difficult time.
Recognizing a loved one is a great way to help keep our Center vibrant, add meaning to personal celebrations and to honor and remember those you care about.
For requesting donations in lieu of gifts for your own special occasions, here is some sample text to get you started:
Hello!

As many of you know, I [our family, etc.] attend Kadampa Center and have found the support and community to be important to me. In lieu of personal gifts, I am hoping you might consider making a donation to the Center in my name for [my birthday, the holidays, etc.]

Options for donating:
Mail a check (with "in honor of [your name]" in the memo line) to
Kadampa Center
5412 Etta Burke Court
Raleigh, NC 27606
Donate online here and add "in honor of [your name]" in the memo line.
Text KC108 to 73256 and from the drop down menu select "Honoraria and Memorials" and add "in honor of [your name]" in the memo line
Thanks for considering this generous act on my behalf. This support means a great deal to me [and my family]. If you are interested in learning more about Kadampa Center, read more here.
Closing, etc.
Click on the button above to be linked to our secure online community.
Then email here with the following information:
Donor Information:
Name
Phone
Address
Email
Name of person(s) to be honored
Tribute to be sent to honoree
Address of honoree
Who is the honorarium from
Additional information